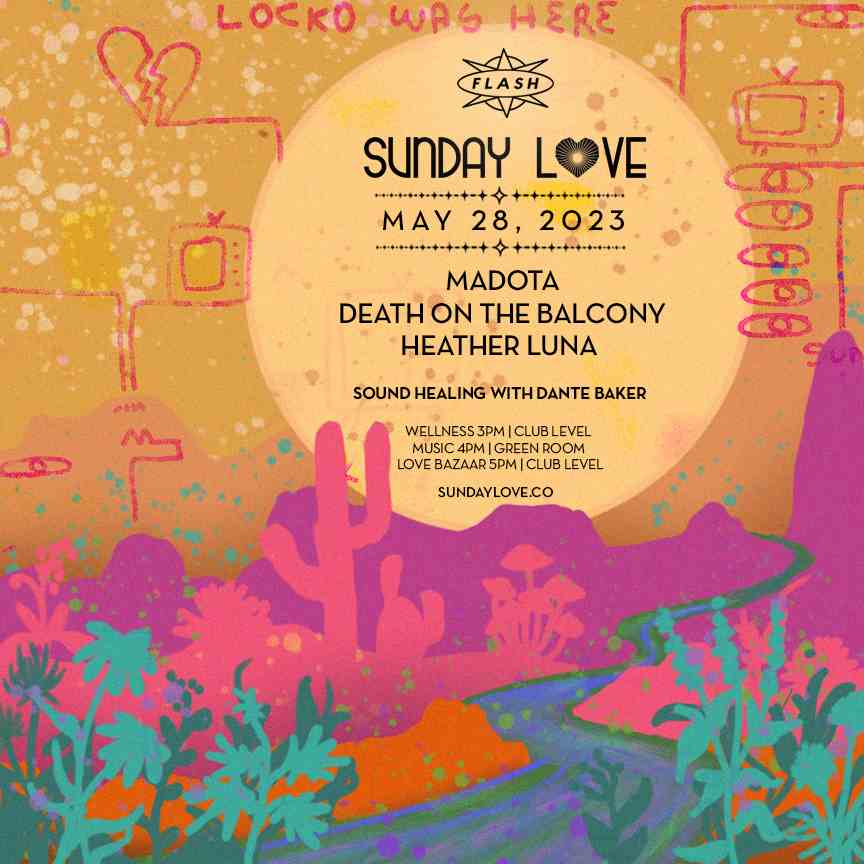 Sunday Love: Madota - Death on the Balcony
Music in the Green Room By:
Madota (Berlin)
Death on the Balcony (All Day I Dream | UK)
Heather Luna
Wellness Session: 3PM- 4PM Club level | 2:45PM Doors
Sound Healing with Dante Baker
Love Bazaar: 5-9PM | Club Room
Doors 2:30PM
Flash Nightclub
Sunday, May 29, 2023
Doors 2:45 PM

Advance Tickets on sale now.
Madota is the musical lovechild of urban shepherds Behnam & Mehran. Iranian by birth, Canadian by upbringing, these two have come a long way from their own journeys before reuniting in Berlin.

Realistically they didn't start playing the ukulele at the tender age of 3 nor did they buy their first drum machine in kindergarten. What we know is that their deeply rooted love for electronic music led them to storm Vancouver's nightlife as DJs since 2011. This in turn prepared them to start their experimentation with making music that pulls influences from their hyphenated backgrounds. Today they embody a sound capturing their lust for colorful organic elements coupled with their itch for darker grooves.

For some time now Mark Caramelli & Paul Hargreaves have been causing quite a stir under their guise, Death on the Balcony. Their style fuses a range of influences from Disco through to House & Deep Techno depending on the time, space and environment....
Years of dedicated musical passion and an appreciation of numerous genres have lead to their sound receiving popularity across the board... Death on the Balcony's release schedule is continually active with them releasing & remixing internationally with the likes of All Day I Dream, Kindisch, Anjunadeep, Do Not Sit, Akbal Music & many more....

Whether it's disco inflected fuel or emotive house & techno rhythms, these eclectically deft producers will juxtapose anything they lay their hands upon, mixing the beat of the drum with the melodic buzz of a hazy brain!

As one of the UK's more versatile acts Death on the Balcony will be delivering more productions, remixes and playing gigs worldwide as part of the All Day I Dream family and beyond! As their range of musicality continues to evolve they consistently deliver a unique, well-timed narrative of the best sounds around....

✨ Wellness Session: 3PM- 4PM Club level | 2:45PM Doors
Sound Healing with Dante Baker
instagram.com/holisticdante/
This month's focus is on the sense to HEAR.
Sound healing is a therapeutic approach that uses sound waves and vibrations to promote healing and relaxation in the body and mind. This practice is based on the idea that everything in the universe vibrates at its own unique frequency and that these frequencies can be harnessed to restore balance and harmony within the body. During this sound healing session, Dante will use various instruments, such as singing bowls, gongs, chimes, and wooden flutes, to create sounds and vibrations that resonate with the body's energy centers or chakras. These vibrations can help to release tension and blockages in the body, allowing for a more profound sense of relaxation and peace.

🛍 Love Bazaar: 5-9PM | Club Room
Local Vendors Marketplace


Music in the Green Room by:

Madota (Berlin)
soundcloud.com/madota
ra.co/dj/madota


Death on the Balcony (All Day I Dream | UK)
soundcloud.com/deathonthebalcony
ra.co/dj/deathonthebalcony
Heather Luna
soundcloud.com/heather_luna
ra.co/dj/heatherluna
__________________________________

⠶⠶⠶⠶⠶ Flash Safe Space Policy ⠶⠶⠶⠶⠶

Flash stands firmly against non-consensual behavior, discrimination, harassment or harm of any kind. If you or a friend feels uncomfortable, please let a Flash team member know ~ our staff is trained to take action and assist.

And always remember, no photos/videos on the dance floors for the sake of the vibe! ❤️