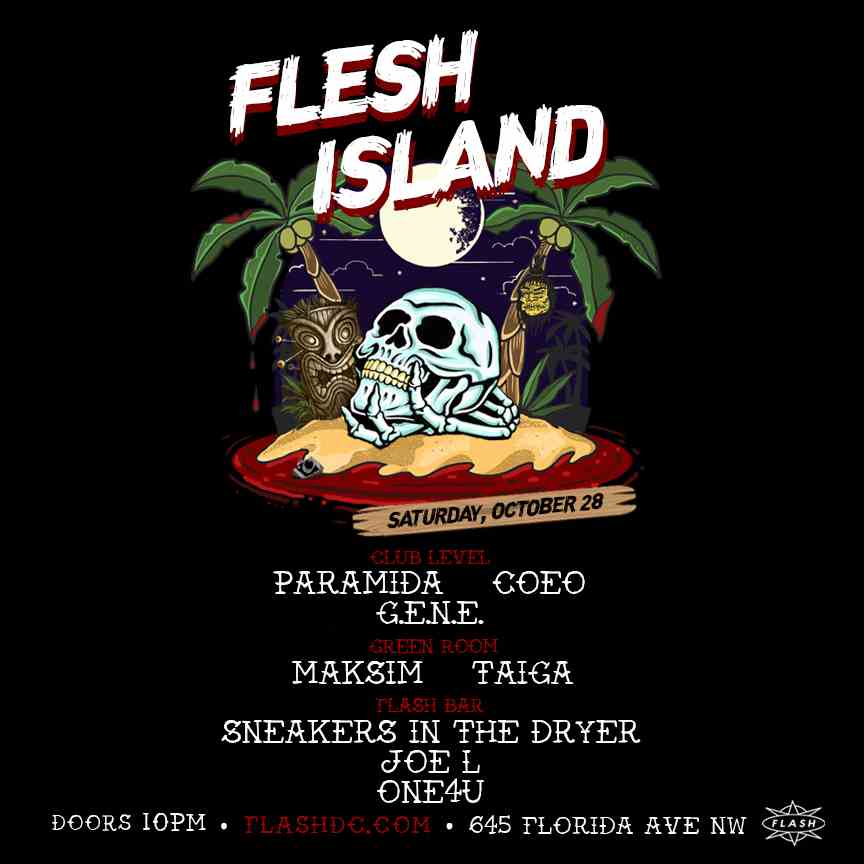 Halloween at Flesh Island: Paramida - COEO
// Club Level //
Paramida (Love On The Rocks | Berlin)
Coeo (Toytonics, Razor-N-Tape | Berlin)
G.E.N.E.
// Green Room //
Maksim (Resolute | NY)
Taiga
// Flash Bar //
Sneakers In The Dryer
Joe L
One4U
Doors 10:00PM
Flash Nightclub
Saturday, October 28, 2023
Doors 10PM
Advance Tickets on sale now.
Inspired by mythical periods and places in dance music history -David Mancuso's The Loft, the Amnesia Terrace and Anjuna Beach in the early 90s, and Panorama Bar in the modern day -Paramida loves to play music that delicately spans across genres and eras. She's not content to just pay homage to the past – with her label Love On The Rocks, she's bringing the dusty corners of outsider dance culture into the present day. Many of the unlikely and treasured connections that form the backbone of Love On The Rocks have been established as Paramida has traveled the world, performing at clubs and festivals across Europe as well as Asia, Australia, the US and Latin America.
Paramida's style is playful yet sincere, purposeful,and hopeful and of course always with a dash of the cosmic. Blending proto-house to trance, percussive gold with high-energy techno, Italian dream house and irresistible new beat, she is truly committed to digging for treasure across genres and eras. The Panorama Bar resident is a confident, talented,and provocative artist in a city whose musical rules are begging to be broken.
But Paramida isn't limited as a DJ and producer – she's a passionate proponent of music and music history. Shebroughther inimitable style to her BBC Radio 1 residency and has been featured in Vogue Magazine speaking about the Iranian Revolution. Devoted to the euphoric potential of nightlife, Paramida is one of dance music's true characters,a passionate proponent of music and music history, a devoted resident and quite simply, a DJ always worth hearing.
German DJ Producer duo Coeo are making a serious impact at the moment, and rightly so. They had several releases on established labels such as 'Toy Tonics', 'House of Disco Records' or New York's 'Let's Play House Records'. Their passion for four-to-the-floor grooves and detailed arrangements was bound to demand people's attention and their tracks have been featured heavily on mixes of artists like Purple Disco Machine, Todd Edwards & many more.
The duo itself consists of Florian Vietz and Andreas Höpfl, 2 guys, who met during high school and shared a mutual love for Hip Hop and Soul music. Some years later they fell in love with House music and spent more and more nights Djing in bars & clubs of their hometown Munich. The duo's name, 'Coeo', is a latin expression, which comes up with a deeper meaning: Though hard to pronounce, it can be translated as "to unite" or "to form an alliance" and makes absolute sense for a DJ Duo whose aim is to bring people together on the dancefloor

// Club Level //
Paramida (Love On The Rocks | Berlin)
soundcloud.com/Paramida
ra.co/dj/paramida
loveontherocks.cc/
Coeo (Toytonics, Razor-N-Tape | Berlin)
soundcloud.com/coeo
ra.co/dj/coeo
G.E.N.E.
soundcloud.com/gene_4soul
ra.co/dj/g.e.n.e.
// Green Room //
Maksim (Resolute | NY)
soundcloud.com/maksimresolute
ra.co/dj/maksim
Taiga
soundcloud.com/taigakoda
ra.co/dj/taiga-us

// Flash Bar //
Sneakers In The Dryer
soundcloud.com/sneakersinthedryer
ra.co/dj/sneakersinthedryer
Joe L
soundcloud.com/joe-l_dc
One4U
mixcloud.com/2Ds/
_________________________________

⠶⠶⠶⠶⠶ Flash Safe Space Policy ⠶⠶⠶⠶⠶
Flash stands firmly against non-consensual behavior, discrimination, harassment or harm of any kind. If you or a friend feels uncomfortable, please let a Flash team member know ~ our staff is trained to take action and assist.
And always remember, no photos/videos on the dance floors for the sake of the vibe! ❤️