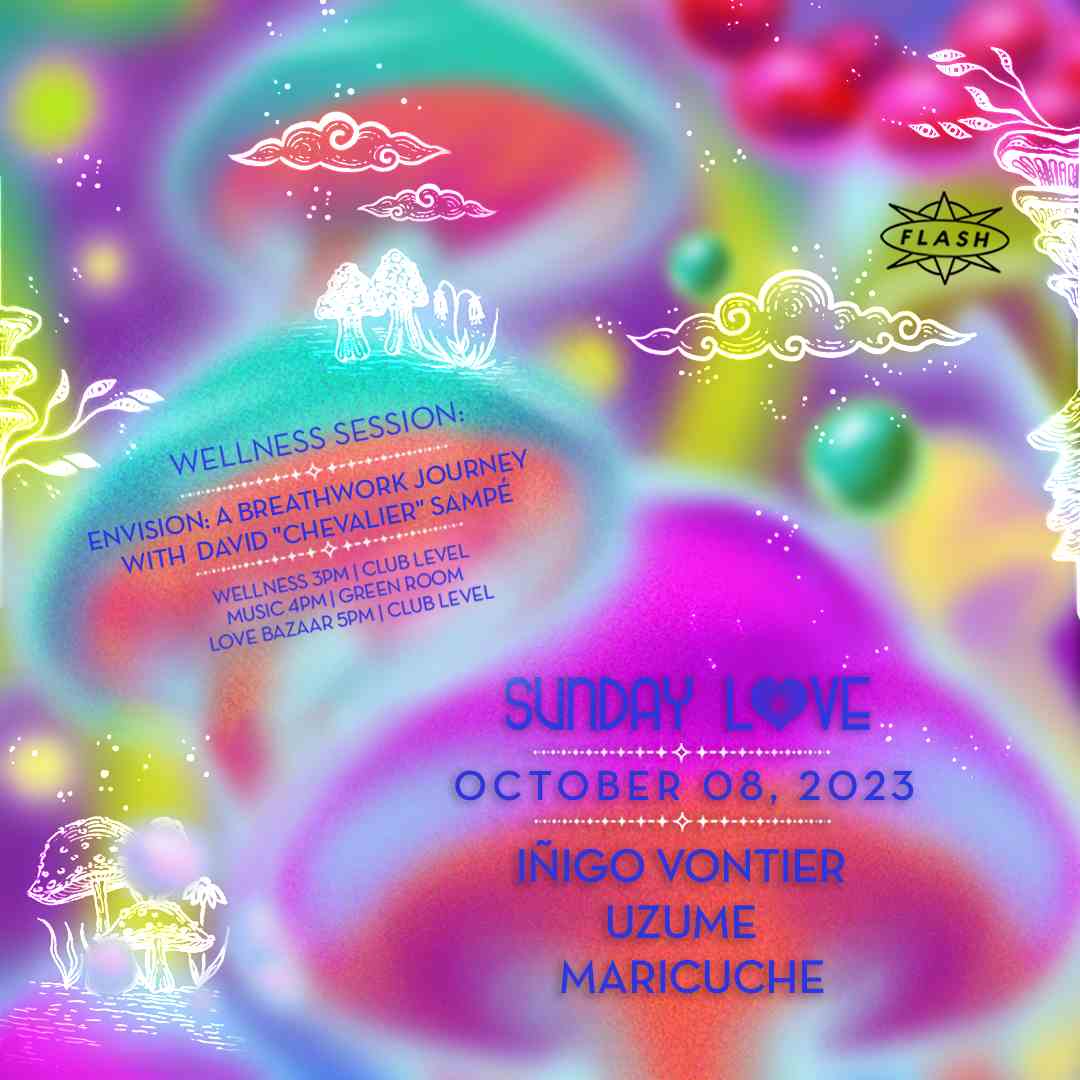 Sunday Love: Iñigo Vontier - Uzume - Maricuche
Music in the Green Room by:
Iñigo Vontier (Calypso Records | Mexico)
Uzume
Maricuche
WELLNESS SESSION: 3PM- 4PM CLUB LEVEL | 2:45PM DOORS
ENVISION: A Breathwork Journey with David Sampe
LOVE BAZAAR: 5-9PM | CLUB ROOM
LOCAL VENDORS MARKETPLACE
Doors 2:30PM
Flash Nightclub
Sunday, October 8, 2023
Doors 2:45 PM

Advance Tickets on sale now.


Iñigo Vontier is a Mexican DJ and producer half of acclaimed electrotropical duo Salon Acapulco and cofounder of Mix Le Fun records in which he released his EP "Soy Electronico" that was top charted for weeks in the junodownload sales. With support from names like In Flagranti, Justin Robertson, Acid Washed, Sare Havlicek, Ilya Santana, Earl Grey (C90s), Bottin, Rodion and many more, he is positioned as one of the top producers of the Mexican electronic scene.

With releases in Gazeebo International, Electrique Music, MXF, No Static and NANG he has got recognition worldwide with some important reviews like DJ Magazine april 2013 disco chart giving 9/10 for "La Nueva Era" released in No Static / NANG.
Now he is working in his first LP to be released next year 2013 in his own label MXF.

Recently he was touring in Europe with excellent feedback playing in some of the top disco clubs in the world like Wanderlust (Paris), La Dame Noir (Marseille), Moroder Soundclub (Madrid), Kakken (Stockholm), 2cv (Amsterdam), Off-Sonar (Barcelona) and many more; and in many locations to the US playing in parties such as the No Shirts No Shoes in the Standard downtown LA.


✨ Wellness Session: 3PM- 4PM Club Level | 2:45PM Doors
ENVISION: A Breathwork Journey with David Sampe
Embark on a profound journey of self-discovery and transformation with "ENVISION: A Breath-Work Journey." Guided by experienced breath-work facilitator David "Chevalier" Sampe, this workshop invites you to unlock your hidden potential.
"ENVISION" isn't just another breath-work experience; it's a sacred canvas where your breath manifests your deepest desires and life's purpose. Each breath, a brushstroke, shapes your visions into reality. Through focused breathing, guided visualizations, and storytelling, you'll tap into your wisdom and unleash creativity. Dream big, break boundaries. Find clarity in career, relationships, and personal growth. Connect with a supportive community committed to self-mastery. Join us and paint the masterpiece of your life through "ENVISION: A Breath-work Journey."

🛍 Love Bazaar: 5-9PM | Club Room
Local Vendors Marketplace


🎶 Music in the Green Room by:

Iñigo Vontier (Calypso Records | Mexico)
soundcloud.com/inigovontier
ra.co/dj/inigovontier
Uzume
soundcloud.com/uzume_music
Maricuche
soundcloud.com/marice-lucia-huallata
__________________________________

⠶⠶⠶⠶⠶ Flash Safe Space Policy ⠶⠶⠶⠶⠶

Flash stands firmly against non-consensual behavior, discrimination, harassment or harm of any kind. If you or a friend feels uncomfortable, please let a Flash team member know ~ our staff is trained to take action and assist.

And always remember, no photos/videos on the dance floors for the sake of the vibe! ❤️