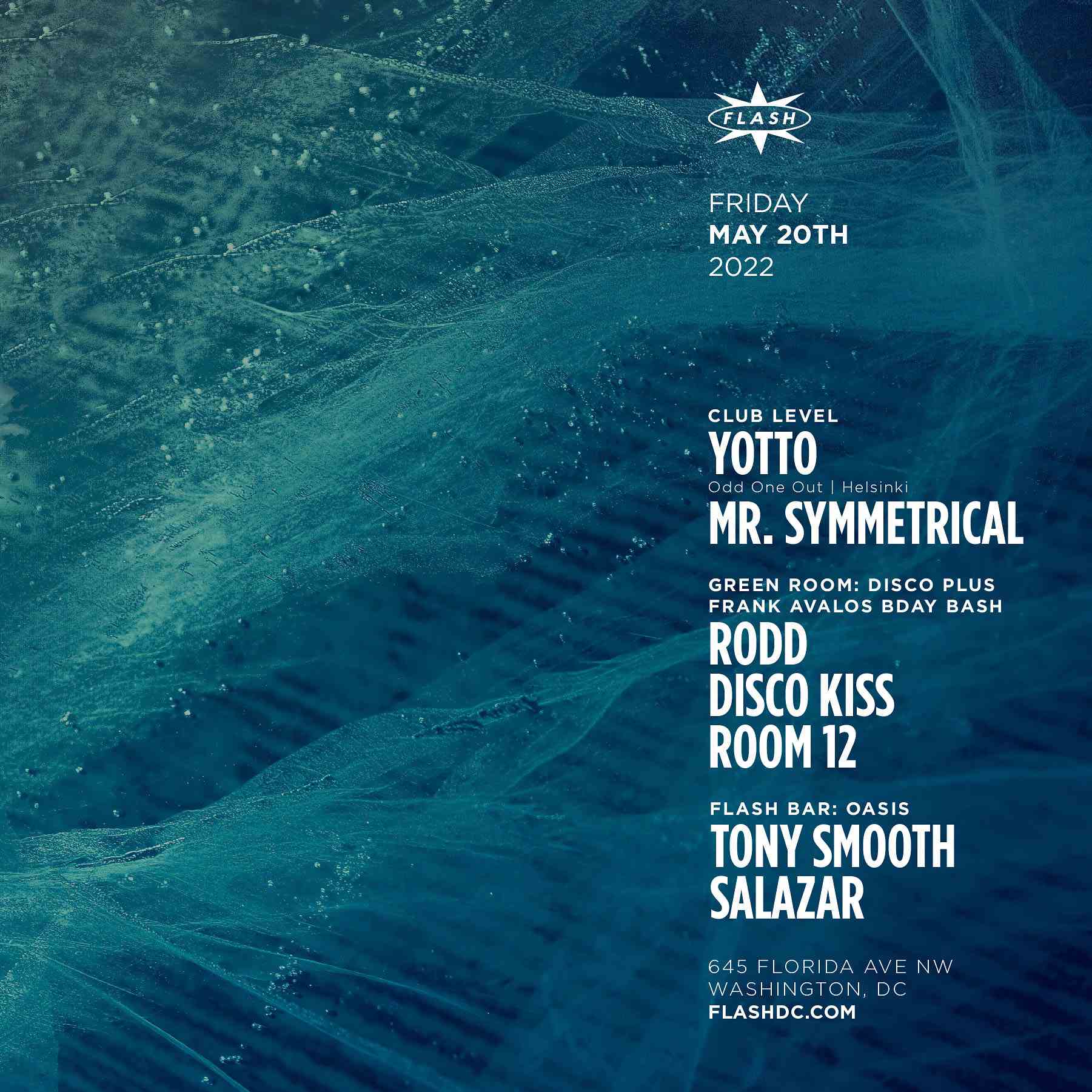 Yotto - Mr. Symmetrical - Disco Plus: Room 12 - Disco Kiss - Dee Jay Clutch
// Club Level //
Yotto (Odd One Out | Helsinki)
Mr. Symmetrical
// Green Room: Disco Plus: The Frank Avalos Birthday Bash //
Room 12
Disco Kiss
Dee Jay Clutch
// Bar: Oasis //
Tony Smooth (Groove Syndicate)
Salazar
Doors 10:00PM
Flash Nightclub
Friday, May 20, 2021
Doors 10PM
Advance Tickets on sale Friday, Feb 18th @ Noon.
Get Tickets: bit.ly/yottodc
A dynamic presence behind the decks, Yotto's resume is one to behold. From having a handful of "Essential New Tune" nods from Pete Tong, to multiple "Hottest Record in the World" selections from Annie Mac, the Finnish selector and producer shows no signs of slowing down. His transcending hits have graced the likes of Anjunadeep, Afterlife, and his own Odd One Out imprint, where he released his 2021 album "Songs You Might Remember from Some Parties." His productions have received support from some of the biggest names in the scene including Sasha, Laurent Garnier, Kölsch, Patrice Baumel, and Adriatique to name a few. After making a stop on his Hyperfall tour in 2018, Yotto returns to the District for what will surely be a musical journey like no other on Friday, May 20th.
// Club Level //
Yotto (Odd One Out | Helsinki)
Mr. Symmetrical
// Green Room: Disco Plus: The Frank Avalos Birthday Bash //
Room 12
Disco Kiss
Dee Jay Clutch
// Bar: Oasis //
Tony Smooth (Groove Syndicate)
Salazar
_________________________________
⠶⠶⠶⠶⠶ Flash Safe Space Policy ⠶⠶⠶⠶⠶
It is Flash's mission to maintain a safe space where we all feel at home. We ask our attendees to please stay compliant with our rules and keep Flash's space free from the following:
⠶ Violence
⠶ Non-consensual behavior
⠶ Racism, homophobia, transphobia, misogyny, sexism or other discriminatory behaviors
⠶ Harassment of any kind
Lastly, we ask you to
⠶ Respect the space… leave no trace
⠶ No phones on the dancefloor…for the sake of the vibe!
If you or a friend feels uncomfortable at any point, please do not hesitate to let a Flash team member know. Our staff i.e. security, bartenders, door staff, and managers are here to help and will remove individuals engaging in any form of hatred, discrimination, or inapropriate behavior ❤️
_________________________________
ABOUT THE ARTISTS:
Yotto: