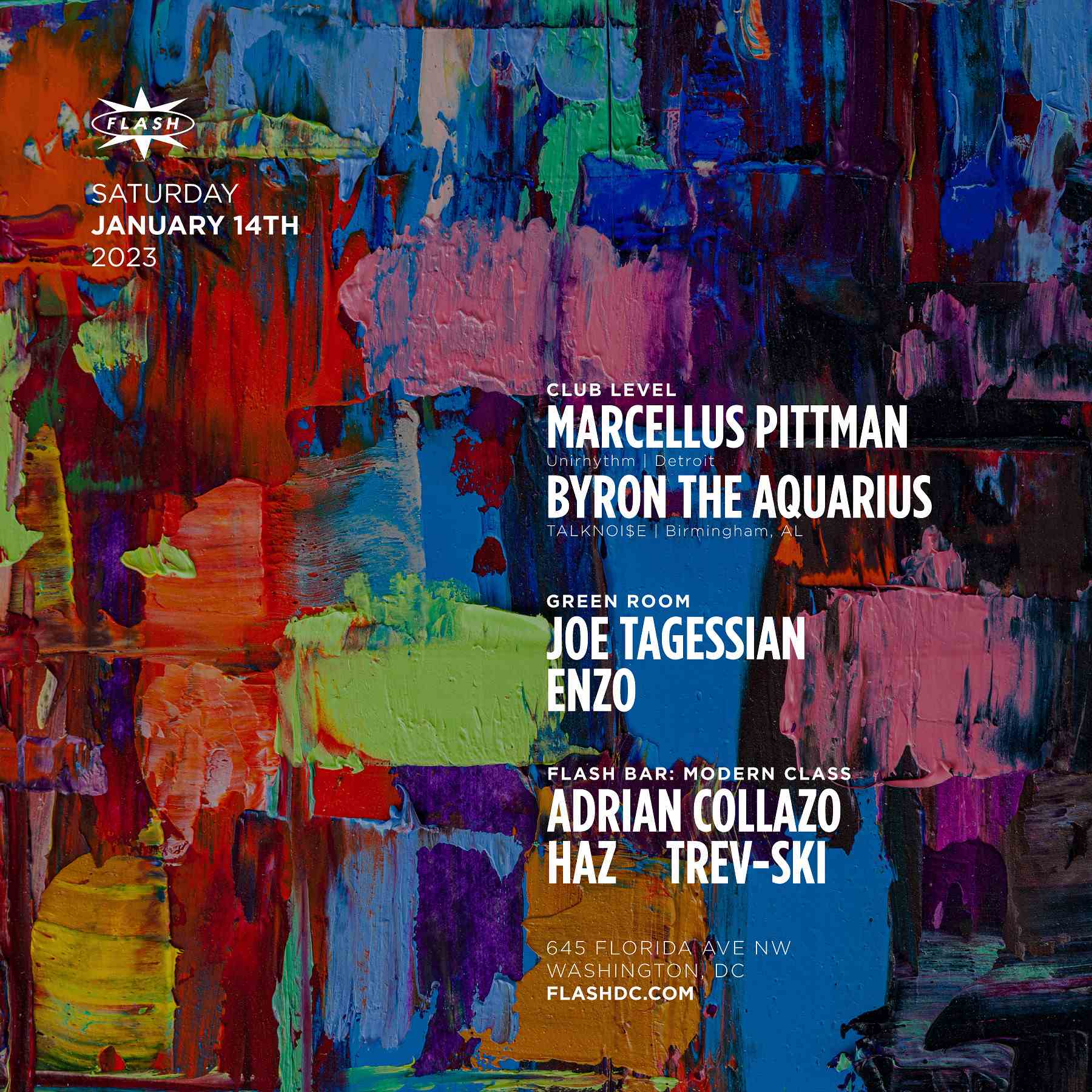 Marcellus Pittman - Byron the Aquarius - Joe Tagessian
// Club Level //
Marcellus Pittman (Unirhythm | Detroit)
Byron The Aquarius (TALKNOI$E / Birmingham, AL)
// Green Room //
Joe Tagessian (Soirée, Re:Set | Boston)
Enzo
// Bar: Modern Class //
Adrian Collazo
Trev-ski
Haz
Doors 10:00PM
Flash Nightclub
Saturday, January 14, 2023
Doors 10PM
Advance Tickets on sale Friday, September 16th.
Get Tickets: bit.ly/marcellusdc

As a member of the legendary Detroit quartet alongside Theo Parrish, Moodymann and Rick Wilhite, we are stoked to welcome one of Motor City's slickest selectors, Marcellus Pittman. His mixes are a rare treat as he plays the best house, disco and music to boogie down to with dedication, precision, and exuberance. We welcome the Detroit Don for his Flash debut on Saturday, January 14th.

When Byron wasn't working on his own music, he was playing keys in the studio with Kai Alce. These creations got into the hands of Theo Parrish, who loved the sound of his sublime jazz-infected house and picked two tracks to release on his legendary Sound Signature label in 2016. The resulting "Highlife EP" has been hailed as "stunning", "intoxicating" and "essential." In the years since, Byron has released a consistently high level of music on Wild Oats, Eglo records, Mutual Intentions, Shall Not Fade and Jeff Mills' Axis Records. He has toured the planet playing festivals such as Dimensions, Dekmantel, Suncebeat, Lente Kabinet, All Points East and many more as well as a plethora of the worlds best clubs. We welcome Byron the Aquarius alongside the Detroit Don Marcellus Pittman for their Flash debut on Saturday, January 14th.

// Club Level //

Marcellus Pittman (Unirhythm | Detroit)
soundcloud.com/marcellus-pittman
ra.co/dj/marcelluspittman
Byron The Aquarius (TALKNOI$E / Birmingham, AL)
soundcloud.com/officialbyrontheaquarius
// Green Room //
Joe Tagessian (Soirée, Re:Set | Boston)
Enzo
// Bar: Modern Class //
Adrian Collazo
Trev-ski
Haz
_________________________________

⠶⠶⠶⠶⠶ Flash Safe Space Policy ⠶⠶⠶⠶⠶

Flash stands firmly against non-consensual behavior, discrimination, harassment or harm of any kind. If you or a friend feels uncomfortable, please let a Flash team member know ~ our staff is trained to take action and assist.

And always remember, no photos/videos on the dance floors for the sake of the vibe! ❤️