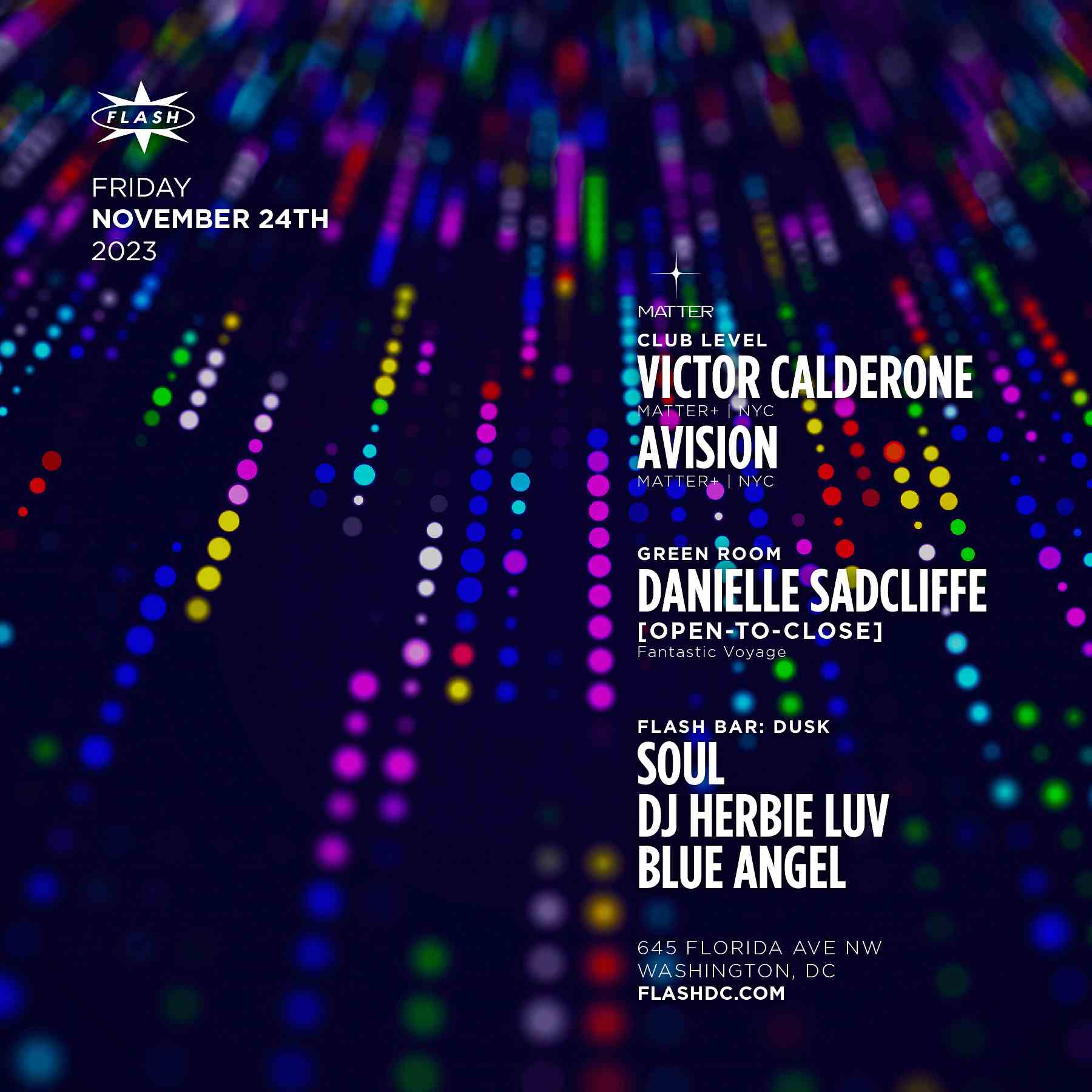 Victor Calderone - Avision
// Club Level //
Victor Calderone (MATTER+ | NYC)
Avision (MATTER+ | NYC)
// Green Room: [open-to-close] //
Danielle Sadcliffe (Fantastic Voyage)
// Flash Bar: Dusk //
Soul
DJ Herbie Luv
Blue Angel
Doors 10:00PM
Flash Nightclub
Friday, November 24, 2023
Doors 10PM

Advance Tickets on sale now.
Across a storied career spanning nearly three decades, Victor Calderone has consistently proven himself as a sonically curious artist.

The New York DJ and producer came up in Bensonhurst, Brooklyn, where his brother Cesar introduced him to the art of DJing when Calderone was just 15. Years later, in 1991, his short-lived Program 2 project secured a record deal with New York label Sire.

Following a brief hiatus, in 1996, Calderone broke through with his debut solo single "Give It Up," which lived on top of the Billboard's Dance Music charts for a week. Throughout the '90s and aughts, Calderone was known for his intuitive and original club remixes for pop artists like Madonna, Sting, Beyoncé, Depeche Mode, and Whitney Houston. The fruitful era also saw him kick off international and statewide residencies that are still going strong over 20 years later. In New York, his homes were influential clubs The Roxy, Pacha, and Crobar—the last of which where he would ultimately launch his brand Evolve. In Evolve's heyday, Calderone built a luminous reputation for his sprawling 12-16 hour sets—all-consuming journeys that plainly illustrated his gift for musical storytelling.

By the early to mid-'10s, Calderone's palette increasingly leaned techno. At this auspicious moment, he was given the stamp of approval from techno greats like Carl Cox, Richie Hawtin, and Adam Beyer. His sound flourished across releases for Sleaze, Drumcode, Intec, as well as his own labels, Waveform and MATTER+. Even with a fresh set of tools and studio partners at his disposal, the underlying groove that was so prominent during his tribal days remained a constant in his work.

In early 2021, a health diagnosis forced Calderone to step away from the studio once more, look inward, and refocus on his health and family. He has returned energized, having devoted recent months to reviving his MATTER+ imprint. "I'm now reconnecting with a whole new audience,"he said. "That's why it's so important for me to have MATTER—to connect and align with new young artists."

Calderone continues to reunite with past collaborators, while still toying with progressive sound design. This curiosity makes every new release sparkle, even after 30 years in the game.
Fortunate to grow up around the rich club culture of NYC and influenced by the sounds around him, Avision now finds himself helping to usher in a new wave of techno for the New York scene. His debut album In My Mind has been released on Maceo Plex's Ellum Audio imprint, which DJ Mag UK has called "an impressive body of work stuffed full of melodic techno and maximal house".
Anthony Cardinale aka Avision started young on the turntables at the age of 12, gained his first residency at 15, and hasn't looked back since. Recent touring highlights include gigs at The Brooklyn Mirage & Time Warp in NYC, Off Sonar in Barcelona, EDC Las Vegas, Space Miami, Watergate Berlin and Stereo Montreal.
Around the same time as his DJ career started, he began to hone his production skills in the studio, and has developed a distinctly New York-flavored techno sound that he's now bringing to the world. Over the last number of years, he's had releases on a range of influential labels across the spectrum of techno; from Ellum and Drumcode, to Hardgroove and Truncate to name a few.
Avision has also recently started the Ground Rule Collective, an outlet which brings together all of the different aspects of his creative passions: music, events, clothing, art, and food - all driven by New York influence. The events portion of Ground Rule has launched with a recurring series of events in New York at Superior Ingredients (formerly Output), and the first clothing line drop followed shortly after. The philosophy of Ground Rule will mirror the development of Anthony as Avision, "staying true to the music, the art form and myself is something I always want to push forward."

// Club Level //

Victor Calderone (MATTER+ | NYC)
soundcloud.com/victorcalderone
ra.co/dj/victorcalderone
victorcalderone.com/
Avision (MATTER+ | NYC)
soundcloud.com/avisionofficial
ra.co/dj/avision
// Green Room: [open-to-close] //

Danielle Sadcliffe (Fantastic Voyage)
soundcloud.com/sadcliffedani
soundcloud.com/fantastic-voyage-music
// Flash Bar: Dusk //
Soul
mixcloud.com/philip-hackley/stream/
ra.co/dj/djsoul-us
DJ Herbie Luv
soundcloud.com/herb-trustinggod-mays
Blue Angel
soundcloud.com/blue-angel-253398253
_________________________________

⠶⠶⠶⠶⠶ Flash Safe Space Policy ⠶⠶⠶⠶⠶

Flash stands firmly against non-consensual behavior, discrimination, harassment or harm of any kind. If you or a friend feels uncomfortable, please let a Flash team member know ~ our staff is trained to take action and assist.

And always remember, no photos/videos on the dance floors for the sake of the vibe! ❤️