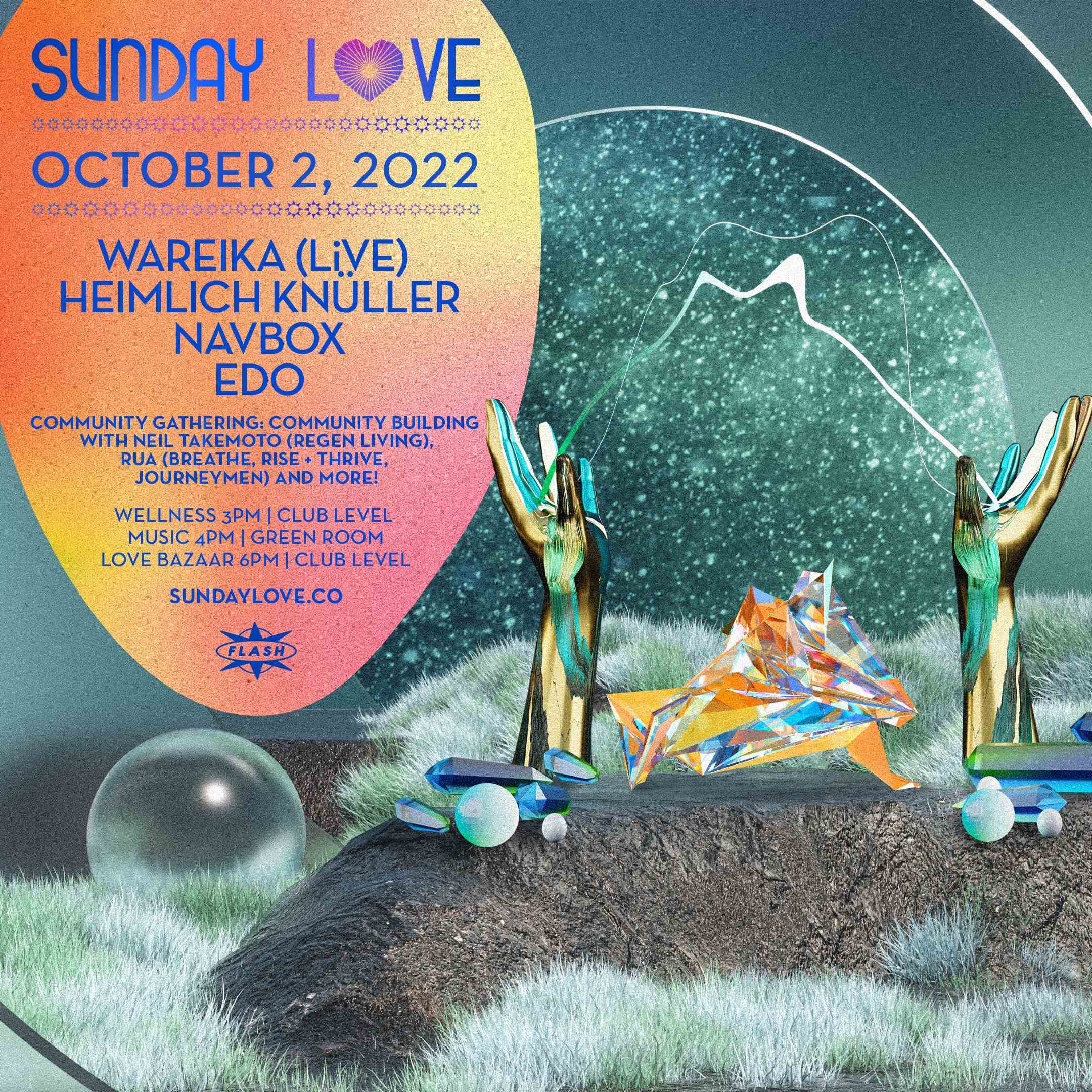 Sunday Love: Wareika LiVE - Heimlich Knüller - Navbox - Edo
Music in the Green Room by:
Wareika LiVE
Heimlich Knüller
Navbox
Edo
Doors 3:00PM
Flash Nightclub
Sunday, October 2, 2022
Doors 2:45 PM
Advance Tickets on sale Friday, July 15th.
Get notified about future events by texting "LOVE" to (855) 957-2349
Get Tickets: bit.ly/sundaylovewareika
Formed in 2007 by Jakob Seidensticker, Florian Schirmacher and Henrik Raabe, Wareika was accidentally gathered on stage for the first time at Hamburg's mythical Mojo Club. Since then, the German trio has built a very singular sound signature after a decade of playing together. Revealing the diverse influences and musical educations from all three individuals, the band's discography has been built over a solid live experience. Being academically trained in jazz and classical but also self taught through electronic music, Jakob, Florian and Henrik are able to sing, play guitars, drum machines, pianos, synthesizers, bass, percussions and much more. After having put out their first release "Men Village" on Connaisseur Recordings following up their unexpected meeting on stage in Hamburg, they unwrapped around twenty EPs and four full length albums released on many respected labels such as Visionquest, Tartlet, Eskimo, Circus Company, and Future Classic among many others. Calling all Sunday Lovers on October 2nd, as Wareika brings their can't be missed LiVE set to the District.
✨ Wellness Session: 3PM- 4PM Club level | 2:45PM Doors
🛍 Love Bazaar: 6-9PM | Club Room
Local Vendors Marketplace
Music in the Green Room by:
Wareika LiVE
Heimlich Knüller
soundcloud.com/heimlich-muller
Navbox
Edo
__________________________________
⠶⠶⠶⠶⠶ Flash Safe Space Policy ⠶⠶⠶⠶⠶
Flash stands firmly against non-consensual behavior, discrimination, harassment or harm of any kind. If you or a friend feels uncomfortable, please let a Flash team member know ~ our staff is trained to take action and assist.
And always remember, no photos/videos on the dance floors for the sake of the vibe! ❤️