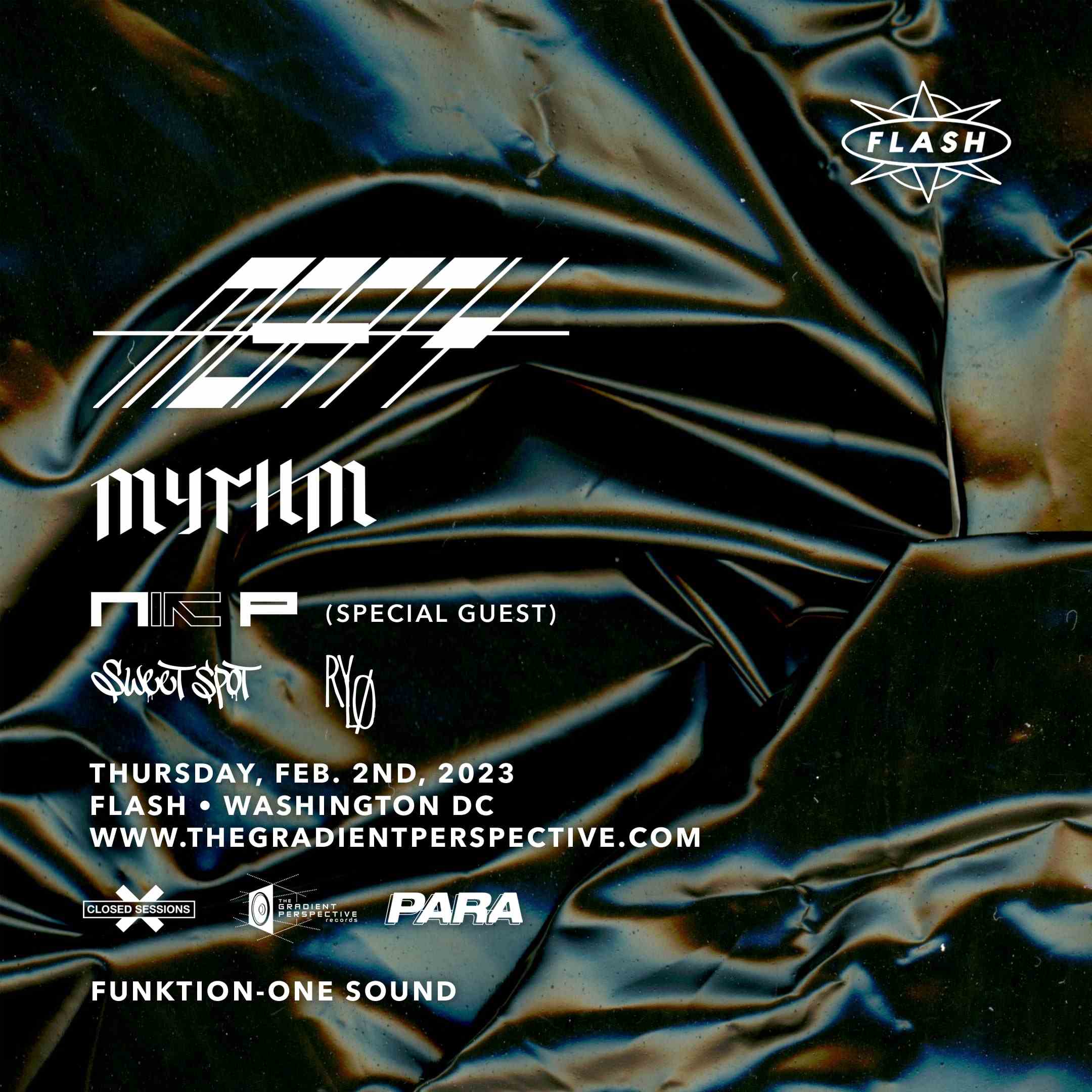 Monty, Mythm, Nik P & Sweet Spot @ Flash
Monty
MYTHM
Nik P
Sweet Spot (Sweet Sounds Collective | NY)
Doors 9:00PM
Flash Nightclub
The Gradient Perspective, Para Presents and Closed Sessions are excited to present a night of bass music at flash, featuring 2 floors of music, vendors, harm reduction and a 4 point Funktion-One Sound System.
21+
Music / Doors @ 9pm
Featuring:
Monty
Few names have risen up as hard and fast as relative newcomer to the scene, Monty. Hailing from Toulouse in France, young Monty showcases an array of fast-paced, super-skilled drum & bass and cutting edge halftime. His fresh take on the genre led him to be nominated 2 years in a row for Best Newcomer at the Drum & Bass Arena awards. Having already released on respected labels such as Critical Music, Invisible and Flexout Audio its Alix Perez' 1985 Music where Monty has released the majority of his work and now would call home. Alix has taken him under his wing and worked together on releasing a legacy of timeless music, they have also travelled the world together and played at the biggest festivals on the circuit showcasing the 1985 sound. It is safe to say that Monty has already made a name for himself in the world of drum and bass but this is only the beginning. Nobody can rival Monty's dedication to the craft and hours spent in the studio and the time invested sets him up to be one of the most exciting acts to come out of the scene in recent years backed by arguably the biggest drum and bass pioneer in the last 10 years, Alix Perez. Monty's DJ sets are famous for being diverse, progressive and high energy. Flowing through sub-genres smoothly and harmonically taking the audience on a sonic journey through wonky halftime beats and rollers with the consistent theme of fun, catchy basslines with unparalleled groove. Through playing at the biggest events all over the world his experience and ability to capture a crowd and hypnotise them is something that has to be witnessed lived to be believed.
Mythm
MYTHM is the vision of Vancouver bass music producer Mikey Miele. In just a short period of time, Miele has helped fortify the growth of the experimental bass and Dubstep scene on the west coast where he resides. No stranger to experimentation, the artist incorporates both analog and modular gear into his sound design. The result is a landscape of eerie atmospheres, hefty percussion, rupturing basslines, and hypnotic melodies. MYTHM has released his work on labels, such as Bassrush, Wormhole and Sleeveless Records to name a few. Since launching the project in January of 2019, Mikey has received support from the likes of world renowned producers such as J:Kenzo, Truth, Zed's Dead, Stylust, N-Type, Liquid Stranger, and Peekaboo. Throughout the pandemic Mikey continued to elevate the project with steady releases and captivating live-stream performances that garnered him lots of new fans and listeners around North America. Riding this momentum, MYTHM leaves no room for stagnancy as he lives for the endless possibilities and boundaries that have yet to be pushed.
w/ Special Guest Nik P
and also featuring Sweet Spot (Sweet Sounds Collective / NY)