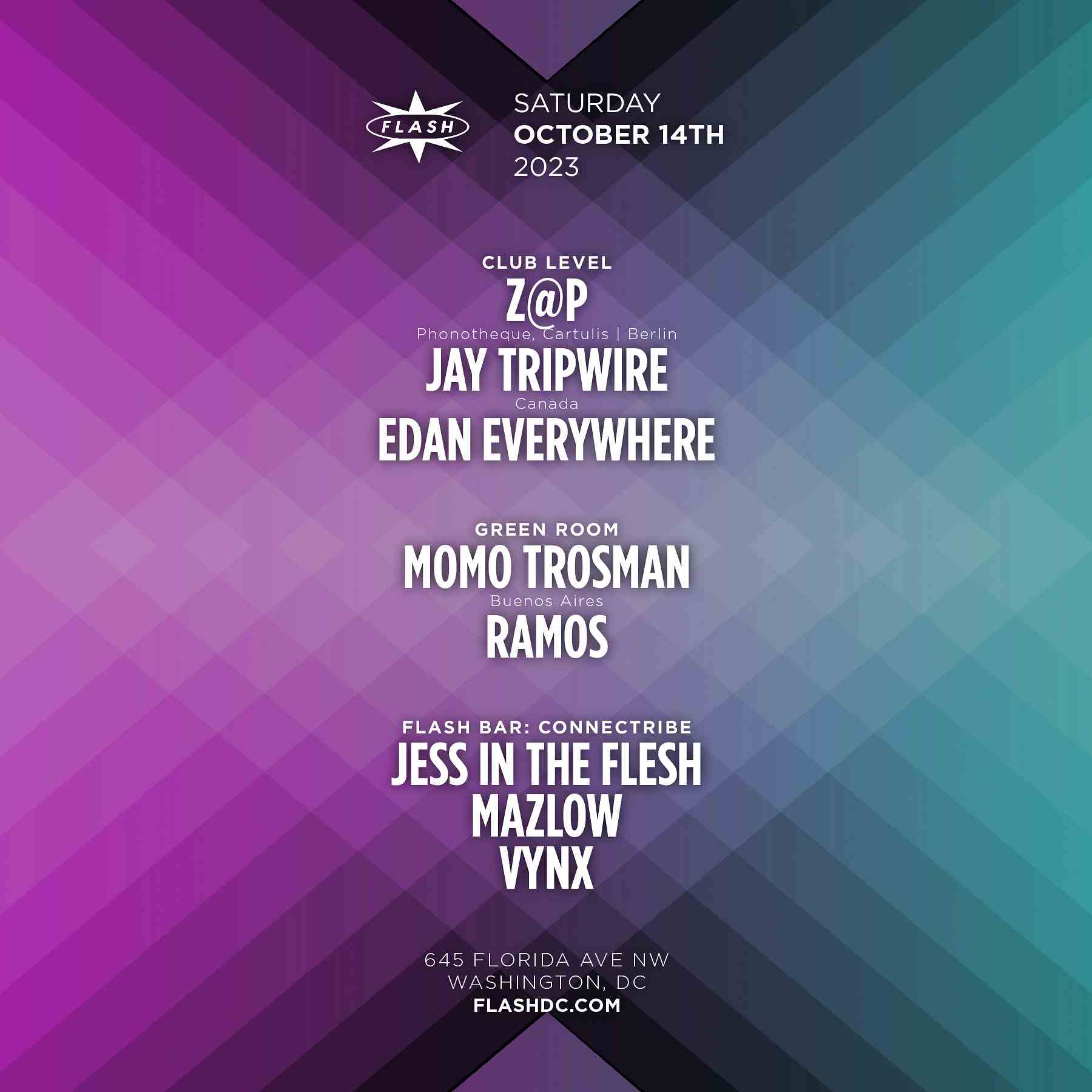 Z@P - Jay Tripwire - Momo Trosman
// Club Level //
Z@P (Phonotheque, Cartulis | Berlin)
Jay Tripwire (Canada)
Edan Everywhere
// Green Room //
Momo Trosman (Buenos Aires)
Ramos
// Flash Bar: Connectribe //
Jess in the Flesh
Mazlow
VYNX
Doors 10:00PM
Flash Nightclub
Saturday, October 14, 2023
Doors 10PM

Advance Tickets on sale now.
In Fernando Zapico, one can find a rare combination: a producer with a talent for creating timeless pieces of electronic dance music, who at the same time is able to shine bright as a selector and club DJ.

What is it about Z@p that has made him such an idiosyncratic spirit in a sea of fresh DJs and producers emerging on a daily basis? One could look at his background; after all, being native to Uruguay, a grail of modern dance music with a rich legacy to learn from, definitely helps. Yet a strong infatuation with club culture and electronic music since the early 2000 ́s in the Montevideo scene has fostered him to develop and progress on a consistent basis. This same fascination led him to meet and become affiliated with the crew behind Phonotheque, a club and collective of which he is now a lifelong resident. Yet Nando is not just a representation of a culture but a representation of himself, of his edge. Perhaps this edge is the way to look at his music.

Operating within a framework of conventional dance music, Z@p, as a DJ, is universally aligned to deliver his signature sound in various settings for various crowds. The beats are all-consuming, tension builds and releases organically, and there is not much left but to dance the night away under his skillful lead. But once you get sucked into the atmosphere, dissonance, carefully placed disruptions, otherworldly basslines, resonating acid, bended vocals, and seemingly contradicting narratives appear and start taking you on a whole other trip. Listening to an experienced and well-versed DJ express himself and utilize his skills, you are bound to go on a layered and complex journey that is both captivating, empowering, and thought-provoking.

Since 2015, the Uruguayan started touring Europe more and more frequently until 2018 when he finally bit the bullet and moved to Berlin permanently. Nowadays, he is a resident of both Phonotheque and Cartulis Music, two institutions pushing electronic music forward in the Americas and Europe, respectively. He continues to tour and be a frequent guest at some of the best clubs in the world, yet somehow he manages to be a tour de force when it comes to production, consistently putting out tracks that electronic music fans all around the world treasure and appreciate. These releases under some of the most influential labels of our time, such as My Own Jupiter, Time Passages, and Cabaret Recordings just to name a few, have set new standards for contemporary dance music to aspire to.
Always sitting slightly off-centre, Jay Tripwire is an artist that walks the line as industry staple and ever changing innovator, releasing one standout release after another. His signature fusion of deep Detroit textures and intricate rhythms has led a career spanning two decades, with over 200 vinyl releases, 2 commercial mixed cd compilations, and four full length albums. He remains one of the most prolific artists around, with an average of 15 releases per year. He is always an in demand remixer he averages 10-15 remixes per year.
Jay's work has been featured on numerous compilations, notably from Cocoon, Fabric, Renaissance, Journeys by DJ, Ultra & Bedrock, and is supported by a diverse spectrum of dance culture from house luminaries such as, Doc Martin and Kerri Chandler to techno legends Steve Bug and Laurent Garnier and John Digweed. With anticipated releases and remixes imminent, the Tripwire production wheel is still very much in motion, and on its way to a turntable near you.

// Club Level //

Z@P (Phonotheque, Cartulis | Berlin)
soundcloud.com/nandozap
ra.co/dj/zap
Jay Tripwire (Canada)
soundcloud.com/jaytripwire
ra.co/dj/jaytripwire
Edan Everywhere
soundcloud.com/edan-everywhere
ra.co/dj/edaneverywhere
// Green Room //
Momo Trosman (Buenos Aires)
soundcloud.com/momo-momo
ra.co/dj/momotrosman
Ramos
soundcloud.com/ramos_dc
ra.co/dj/ramos-2
// Flash Bar: Connectribe //
Jess in the Flesh
soundcloud.com/jessintheflesh
ra.co/dj/jessintheflesh
MAZLOW
soundcloud.com/mazlow_dj
VYNX
soundcloud.com/st-phanie-vink
_________________________________

⠶⠶⠶⠶⠶ Flash Safe Space Policy ⠶⠶⠶⠶⠶

Flash stands firmly against non-consensual behavior, discrimination, harassment or harm of any kind. If you or a friend feels uncomfortable, please let a Flash team member know ~ our staff is trained to take action and assist.

And always remember, no photos/videos on the dance floors for the sake of the vibe! ❤️