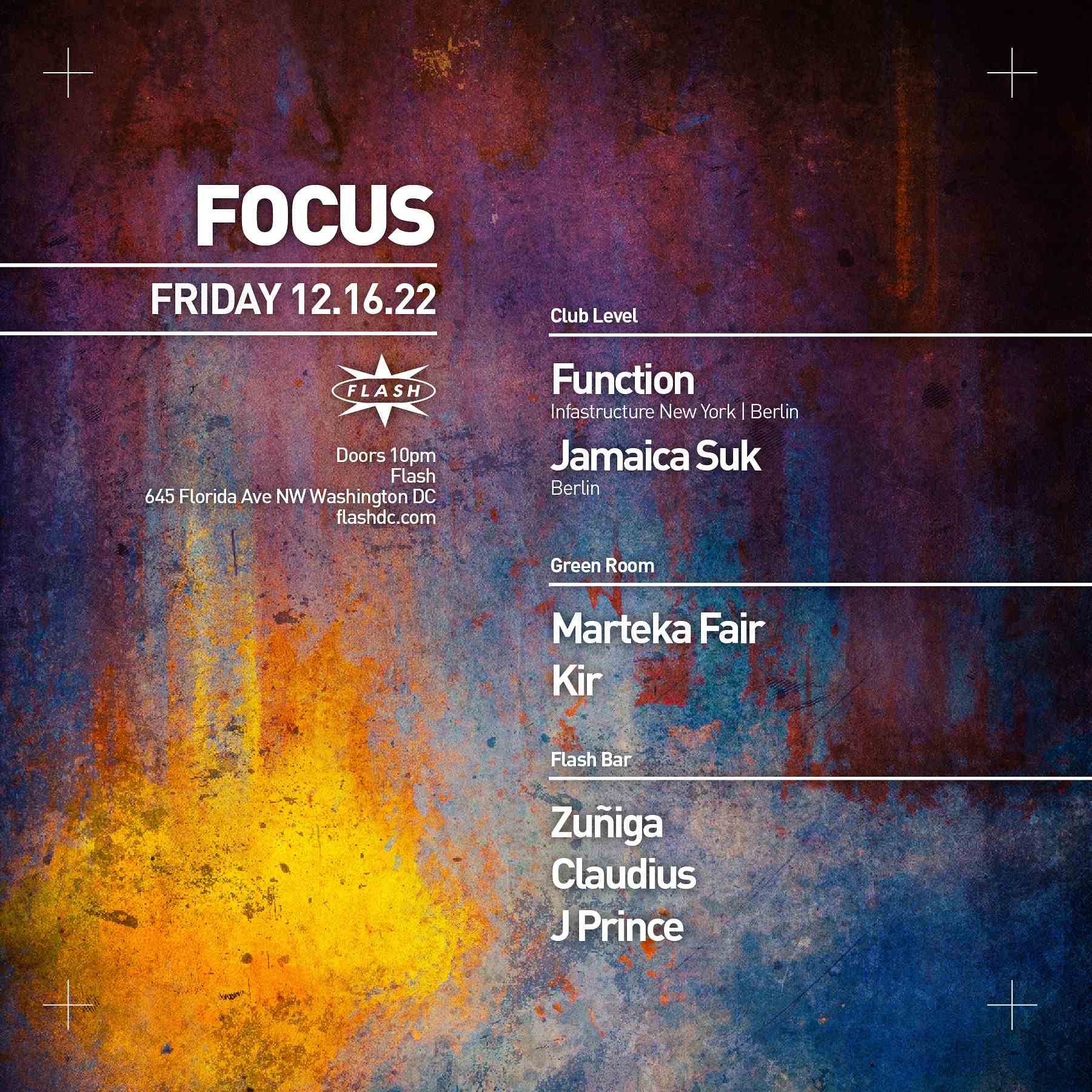 FOCUS: Function - Jamaica Suk - Marteka Fair - Kir - Zuñiga - Claudius - J Prince
// Club Level //
Function (Tresor, Ostgut | US)
Jamaica Suk (Berlin)
// Green Room //
Marteka Fair
Kir
// Flash Bar //
Zuñiga
Claudius
J Prince
Doors 10:00PM
Flash Nightclub
Friday, December 16, 2022
Doors 10PM

Advance Tickets on sale Friday, July 29th @ 12PM.
Get notified about future events by texting "FLASH" to (855) 957-2349
Get Tickets: bit.ly/focusfunctiondc

One of techno's true underground heroes, Function has been DJing and making music for over 25 years. He is a founding member of the Sandwell District collective, Ostgut recording artist and owner of Infrastructure.

Hailing from New York, he was seduced by techno when Jeff Mills held residency (as well as his own first) at Limelight in the early 90s. Producing from the mid-90s onward, he released his first 12"s on Damon Wild's Synewave and his own Infrastructure imprint. A chance meeting in 1996 brought him together with Regis (Karl O'Connor). The two worked as Portion Reform, releasing uncompromising music on Downwards, making him the only non- Birmingham producer to appear on the label. He later moved to Berlin in 2007, still working with Regis, and now Silent Servant, putting his focus on Sandwell District. Since, the label turned collective, skyrocketed into cult status - decentralizing the artist ego, blurring the lines between the artist, label and dj; re- arranging the DNA of modern dance music. Join us and experience Function, an artist who has always pushed the boundaries of innovation on Friday, December 16th.
Named by Boiler Room as one of "Berlin's best kept secrets," Jamaica Suk has fused her jazz and metal roots from the Bay Area California with a feel for soulful driving techno, a combination that makes her at home leading dancefloor workouts across the globe. Join us and experience Jamiaca Suk and Function, artists who have always pushed the boundaries of innovation on Friday, December 16th.

// Club Level //

Function (Tresor, Ostgut | US)
ra.co/dj/function
Jamaica Suk (Berlin)
// Green Room //
Marteka Fair
Kir
// Flash Bar //
Zuñiga
ra.co/dj/ledroit
Claudius
ra.co/dj/claudius
soundcloud.com/claudiusofficial
J Prince
ra.co/dj/j-prince
_________________________________

⠶⠶⠶⠶⠶ Flash Safe Space Policy ⠶⠶⠶⠶⠶

Flash stands firmly against non-consensual behavior, discrimination, harassment or harm of any kind. If you or a friend feels uncomfortable, please let a Flash team member know ~ our staff is trained to take action and assist.

And always remember, no photos/videos on the dance floors for the sake of the vibe! ❤️