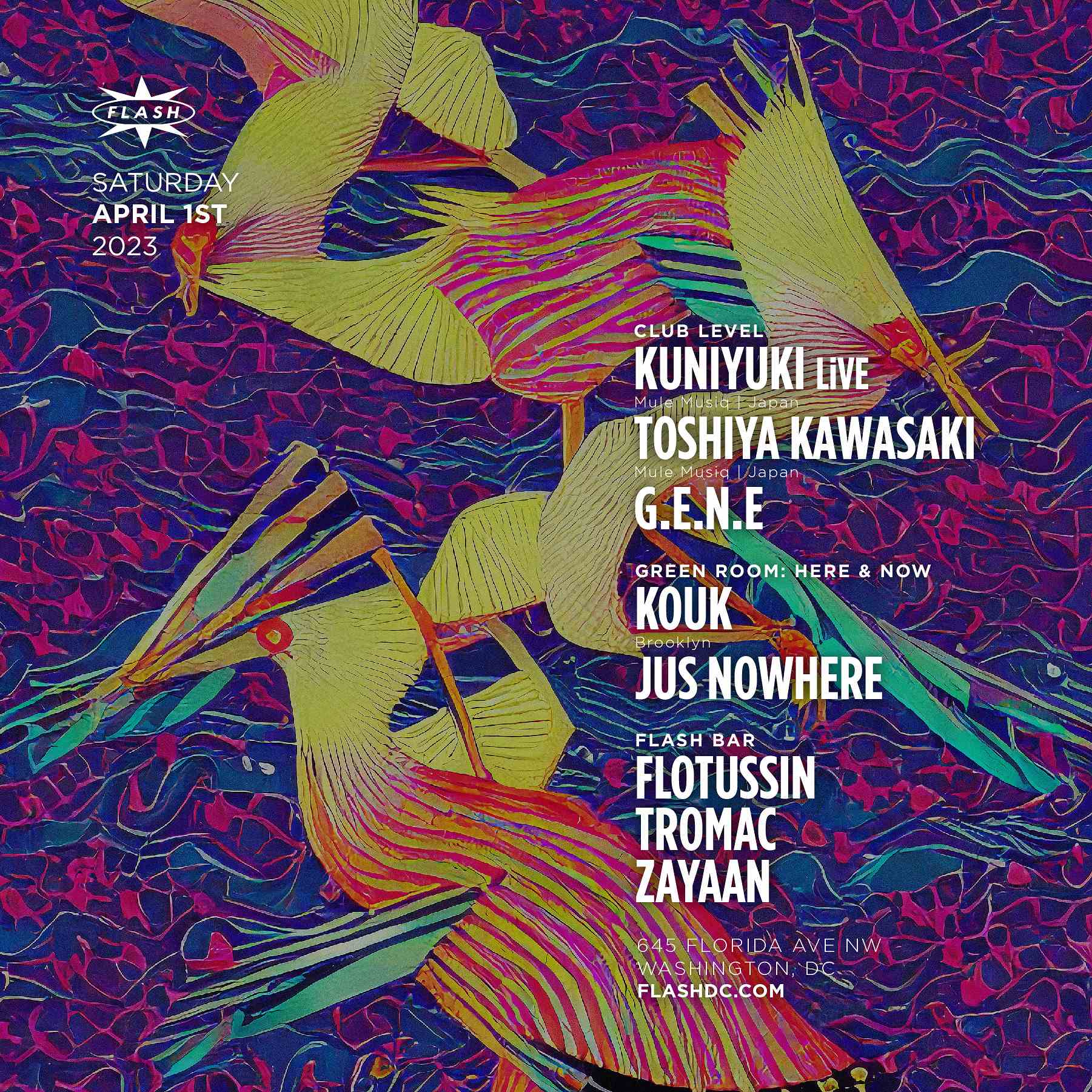 Mule Musiq: Kuniyuki LiVE - Toshiya Kawasaki
// Club Level //
Kuniyuki Takahashi LiVE (Mule Musiq | Japan)
Toshiya Kawasaki (Mule Musiq | Japan)
G.E.N.E.
// Green Room: Here & Now //
KOUK (Brooklyn)
Jus Nowhere
// Flash Bar: Room Service //
Flotussin
Tromac
Zayaan
Doors 10:00PM
Flash Nightclub
Saturday, April 1, 2023
Doors 10PM
Advance Tickets on sale now.
Kuniyuki Takahashi is a sound designer and producer who is based and works in Sapporo, Hokkaido, Japan. He is no doubt one of Japan's best kept secrets. International DJ's such as Joe Claussell, Dego, DJ Cosmo, Jimpster to name but a few, have been falling over themselves when they heard his produced tracks. Now, some of them have been releasing his works through their own labels. He has also been working closely with the sound of speed crew over the past few years and releasing hisworks on their own label and performing live with them in their famed parties which are held regularly in Tokyo and sometimes in parties such as the Big Chill and in excursions to Austria and Europe. Check out the ever-consistent and surprisingly prolific producer out of Sapporo, Kuniyuki Takahashi!
Toshiya Kawasaki is the founder and a&r of Mule Musiq, Studio Mule, Mule Electronic, Endless Flight and Let's Get Lost. In 2001 Mule Musiq was started as a booking agency and invited various artists & djs from all over the world like DJ Koze, Henrik Schwarz, and Minilogue among others. The labels are highly respected worldwide and picked up a top 25 ranking of most important labels on xlr8r and reached top 20 on resident adviser in 2008 & 2009 respectively.
// Club Level //
Kuniyuki LiVE (Mule Musiq | Japan)
soundcloud.com/kuniyuki-takahashi
ra.co/dj/kuniyuki
Toshiya Kawasaki (Mule Musiq | Japan)
soundcloud.com/mulemusiq
ra.co/dj/toshiyakawasaki
G.E.N.E.
soundcloud.com/gene_4soul
ra.co/dj/g.e.n.e.
// Green Room: Here & Now //
KOUK (Brooklyn)
soundcloud.com/kouk_music
ra.co/dj/kouk
Jus Nowhere
soundcloud.com/jusnowhere
ra.co/dj/jusnowhere
// Flash Bar: Room Service //
Flotussin
soundcloud.com/flotussin
Tromac
soundcloud.com/tromac
ra.co/dj/tromac
Zayaan
soundcloud.com/zayaan301
ra.co/dj/zayaan
_________________________________
⠶⠶⠶⠶⠶ Flash Safe Space Policy ⠶⠶⠶⠶⠶
Flash stands firmly against non-consensual behavior, discrimination, harassment or harm of any kind. If you or a friend feels uncomfortable, please let a Flash team member know ~ our staff is trained to take action and assist.
And always remember, no photos/videos on the dance floors for the sake of the vibe! ❤️