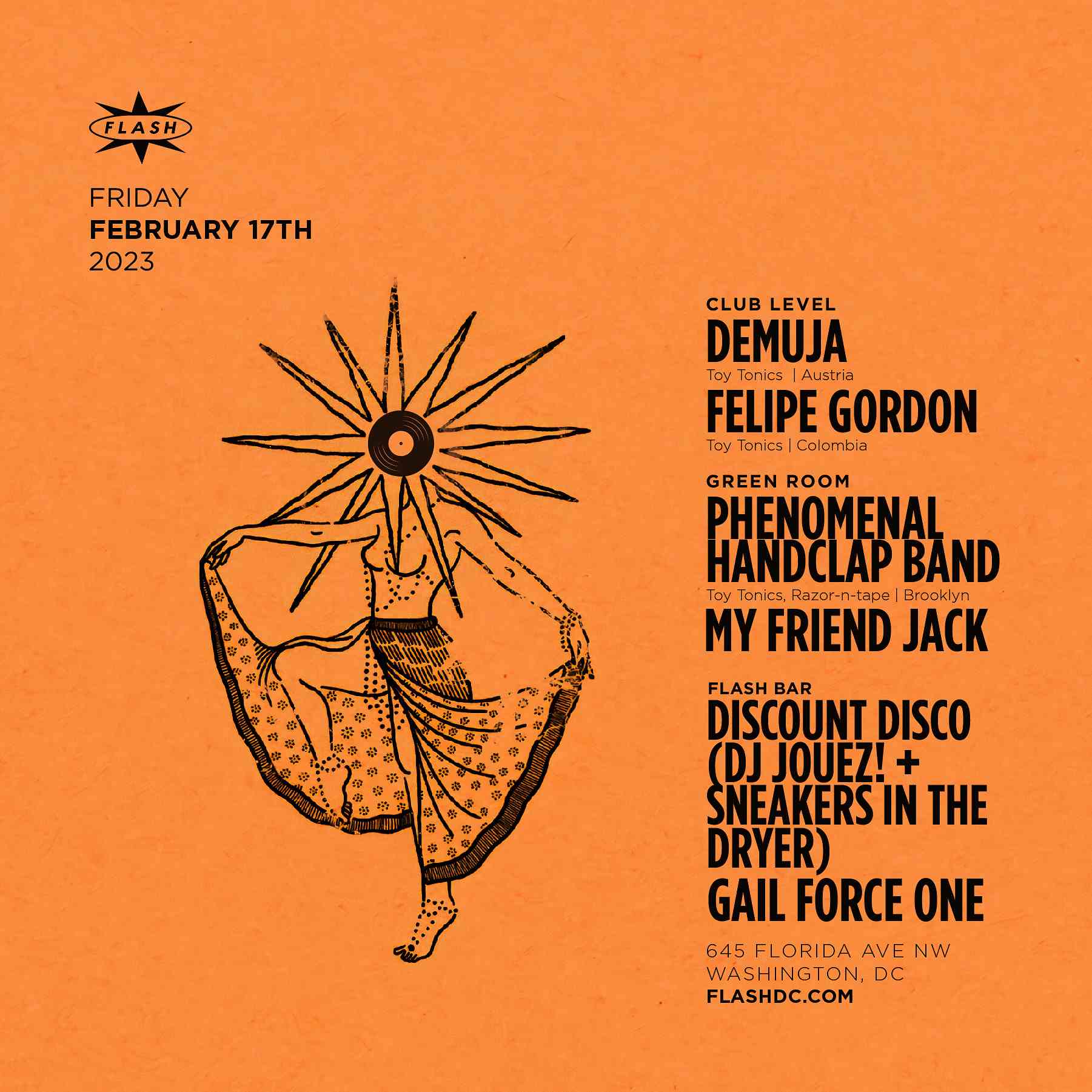 Demuja - Felipe Gordon
// Club Level //
Demuja (Toy Tonics | Austria)
Felipe Gordon (Toy Tonics | Colombia)
// Green Room //
Phenomenal Handclap Band (Toy Tonics, Razor-N-Tape | Brooklyn)
My Friend Jack
// Flash Bar //
DJ Jouez!
Sneakers In The Dryer
Gail Force One
Doors 10:00PM
Flash Nightclub
Friday, February 17, 2023
Doors 10PM

Advance Tickets on Friday, January 13th.
Get Tickets: bit.ly/demujadc


Austrian-based DJ and producer, DEMUJA brings Soul to the world of Deep Disco, Raw House & Electro. Demuja has long been a respected name in contemporary electronic music. His output, which straddles the lines between house, disco and electro has over the years been released mostly via his own imprint MUJA, but also with the likes of respected labels such as Shall Not Fade, Nervous Records, Freerange & Universal Music, amassing over 20 million streams across YouTube and Spotify alone.

Throughout the past five years Demuja has been taking his raw, emotive and soul drenched style across the globe, performing in 34 countries so far across America, Asia, Africa, Australia and Europe. 2019 saw him play over ninety shows worldwide and the past couple of years have seen him perform at some of the world's most esteemed events and nightclubs (such as Dour Festival Belgium, Piknic Electronik Festivals Montreal, Rex Club Paris or Le Bain New York).

As things have progressed for Demuja he's gained recognition not only from many of the worlds leading events but also many of the most prestigious publications, radio stations and mix series in electronic music such as Mixmag, DJ Mag, Rinse FM, Feel My Bicep and the now defunct Red Light Radio in Amsterdam.

Based in Colombia's capital Bogotá, Felipe Gordon is a renaissance man. The producer, multi-instrumentalist, DJ and label head from Bogotá, Colombia is nothing short of a phenom, effortlessly fusing complex sound combinations from Jazz samples to flowing pianos and acid bass lines into hugely exciting and unique house records. It's a sound which comes together perfectly to create tracks which have been moving waves worldwide over the last couple of years. Felipe has already released a string of hugely well regarded tracks and worked on remixes for some of the coolest labels out there including Toy Tonics, Local Talk, Shall Not Fade, Razor n' Tape and his own Nómada Records.
The Phenomenal Handclap Band is Daniel Collás, Juliet Swango and Monika Heidemann. They've released numerous singles with labels such as Daptone, Toy Tonics, and Glitterbox since 2017 and have attracted critical acclaim as well as praise from such luminaries as Paul McCartney, Bryan Ferry, Gilles Peterson, Elton John, Don Letts, and Simon LeBon, to name but a few.
Their long-awaited third album, PHB, was released during the lockdown of 2020 and has been hailed as "a heady mix of the more primal components of dance music: raw soul, vocal harmonies, fuzzy guitars, and analog synthesizers." The band's newest EP, Burning Bridges, will be released in March 2023 with the venerated Razor-N-Tape label. As DJs, they've rocked parties and clubs all over the world, favoring left-field dance music and synth-heavy psychedelia over straight-ahead house and disco.

// Club Level //

Demuja (Toy Tonics | Austria)
soundcloud.com/demuja
bio.to/demuja
Felipe Gordon (Toy Tonics | Colombia)
soundcloud.com/felipe-gordon
ra.co/dj/felipegordon
// Green Room //
Phenomenal Handclap Band (Toy Tonics, Razor-N-Tape | Brooklyn)
soundcloud.com/phenomenal-handclap-band
ra.co/dj/thephenomenalhandclapband
My Friend Jack
soundcloud.com/myfriendjack_dc
// Flash Bar //
DJ Jouez!
soundcloud.com/djjouez
ra.co/dj/djjouez
Sneakers In The Dryer
soundcloud.com/sneakersinthedryer
ra.co/dj/sneakersinthedryer
Gail Force One
soundcloud.com/gailforceone
ra.co/dj/gailforceone
_________________________________

⠶⠶⠶⠶⠶ Flash Safe Space Policy ⠶⠶⠶⠶⠶

Flash stands firmly against non-consensual behavior, discrimination, harassment or harm of any kind. If you or a friend feels uncomfortable, please let a Flash team member know ~ our staff is trained to take action and assist.

And always remember, no photos/videos on the dance floors for the sake of the vibe! ❤️