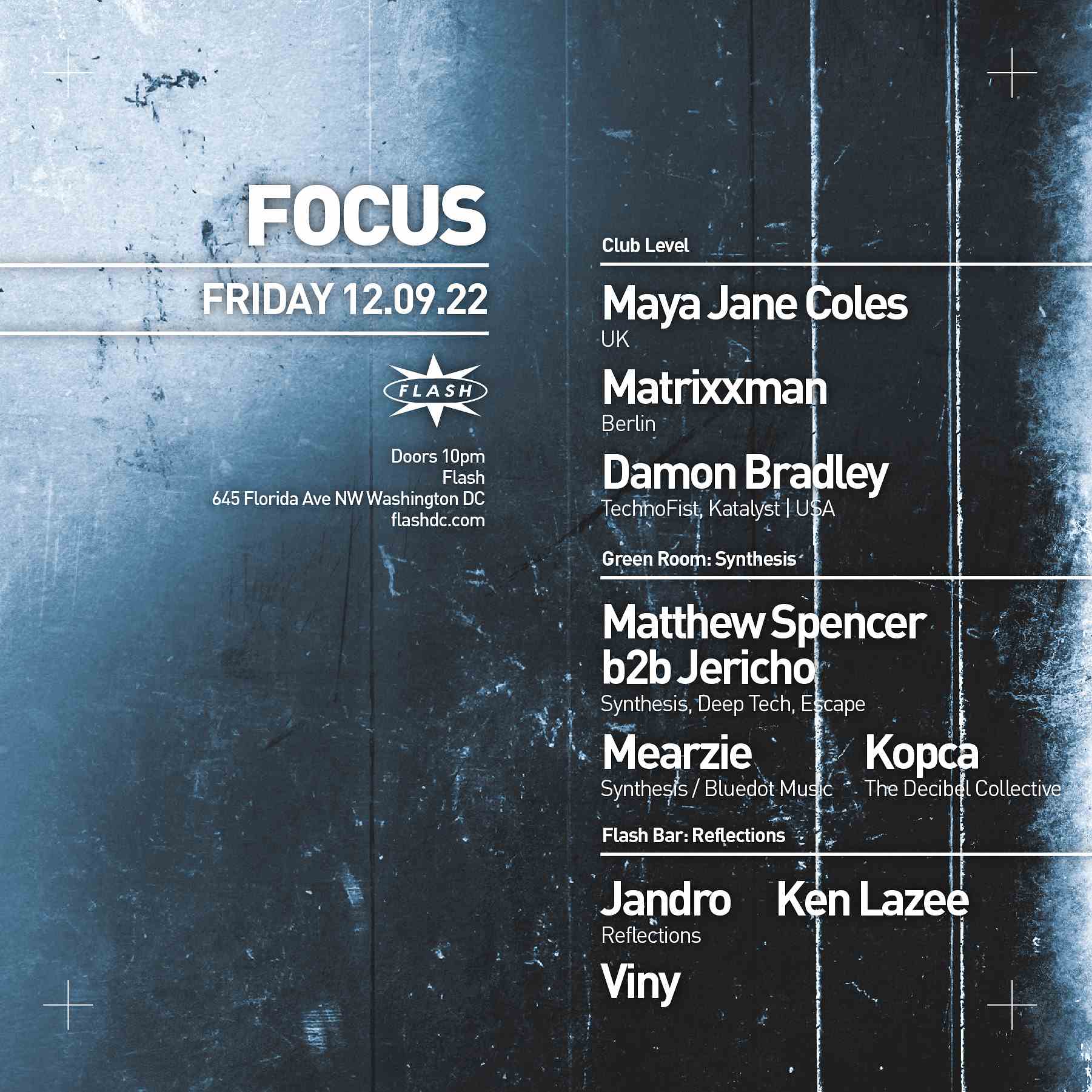 FOCUS: Maya Jane Coles - Matrixxman - Damon Bradley - Synthesis: Matthew Spencer b2b Jericho - Mearzie - Kopca - Reflections
// Club Level //
Maya Jane Coles (UK)
Matrixxman (Berlin)
Damon Bradley (TechnoFist, Katalyst | USA)
// Green Room: Synthesis //
Matthew Spencer b2b Jericho (Synthesis, Deep Tech, Escape)
Mearzie (Synthesis / Bluedot Music)
Kopca (The Decibel Collective)
// Bar: Reflections //
Jandro (Reflections)
Ken Lazee
Viny
Doors 10:00PM
Flash Nightclub
Friday, December 9, 2022
Doors 10PM
Advance Tickets on sale Friday, November 11th.
Get Tickets: bit.ly/matrixxmanmjc
Winner of numerous awards, British-Japanese queen of the electronic underground Maya Jane Coles has proven herself internationally as an artist, producer, songwriter and DJ, gracing the cover of over 20 magazines in 8 different countries including twice for Mixmag (UK), DJ Mag (UK), Village Voice (USA), Trax (France), Groove (Germany) and Vicious (Spain), alongside coverage as diverse as Vogue and Nylon through to Rolling Stone, Wall Street Journal and GQ.
Maya is somewhat of an enigma; on a typical Maya Jane Coles record, Maya will have written, produced, engineered, arranged, mixed and performed every element of the track; sometimes top-lining and, on many occasions, even designing the sleeve artwork too. Maya is no overnight success, rather someone who has been paying their dues and honing their craft for years, landing her the opportunity to provide acclaimed mixes for Resident Advisor, XLR8R, Boiler Room, Mixmag and multiple Essential Mixes, while headlining key venues and festivals worldwide.
Matrixxman is the alter-ego of Charles McCloud Duff. Although he's known primarily for his work in the techno realm as of late, his musical range extends well beyond the confines of dance music. Initially he honed his skills producing extensively west coast rappers, YG and Ty$. After growing bored of the routine, his pursuit of what he refers to as "some cold ass futuristic shit," led him down an unforeseen path of experimentation touching on 2 step garage, post-dubstep, grime, and other facets of UK Bass music.
Several years later he ultimately settled into his groove with something straddling the divide between Chicago House and Detroit Techno. Although truth be told, it was nothing new to him. Word of his diverse production chops spread within the industry due to his work with Depeche Mode on their album "Spirit". Since his crossover, his music has been played by the likes of DVS1, Rødhåd, Jeff Mills, Ben Klock, Richie Hawtin, and Levon Vincent, while having releases on labels like Dekmantel, Planet Rhythm, and Delft to name a few. It's not often that an artist can cover such range without faltering but then again Matrixxman has always eschewed conformity.

// Club Level //
Maya Jane Coles (UK)
soundcloud.com/mayajanecoles/
mayajanecoles.com/


Matrixxman (Berlin)
soundcloud.com/matrixxman
ra.co/dj/matrixxman
Damon Bradley (TechnoFist, Katalyst | USA)
// Green Room //
Matthew Spencer
b2b
Jericho (Synthesis, Deep Tech, Escape)
Mearzie (Synthesis / Bluedot Music)
Kopca (The Decibel Collective)
// Bar: Reflections //
Jandro (Reflections)
Ken Lazee
Viny
_________________________________

⠶⠶⠶⠶⠶ Flash Safe Space Policy ⠶⠶⠶⠶⠶

Flash stands firmly against non-consensual behavior, discrimination, harassment or harm of any kind. If you or a friend feels uncomfortable, please let a Flash team member know ~ our staff is trained to take action and assist.

And always remember, no photos/videos on the dance floors for the sake of the vibe! ❤️