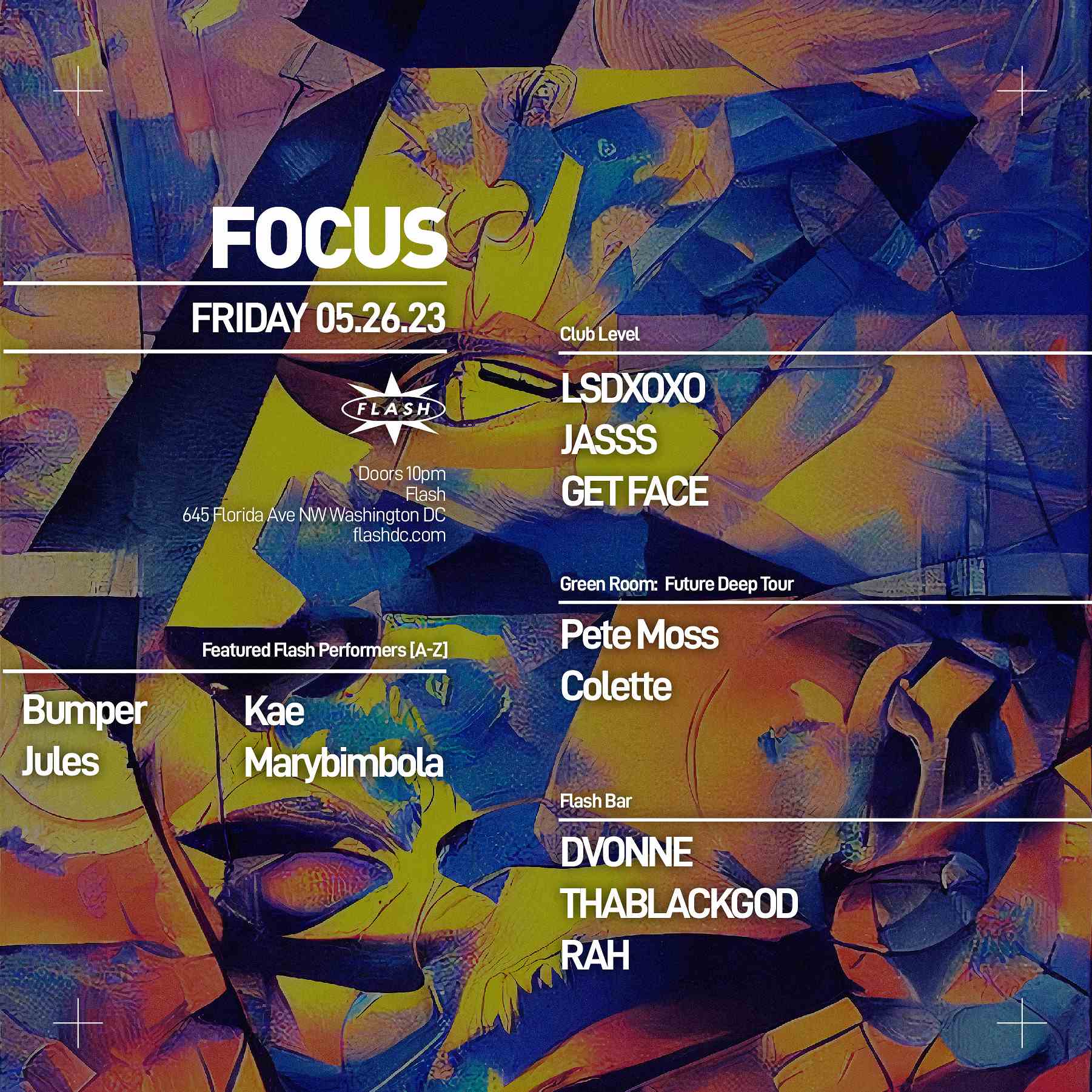 FOCUS: LSDXOXO - JASSS
// Club Level //
LSDXOXO
JASSS
GET FACE
// Green Room: Future Deep Tour //
Pete Moss
Colette
// Flash Bar //
Dvonne
THABLACKGOD
RAH
// Featured Flash Performers [A-Z] //
Bumper
Jules
Kae
Marybimbola
Doors 10:00PM
Flash Nightclub
Friday, May 26, 2023
Doors 10PM

Advance Tickets on sale Friday, January 27th.
Get Tickets: bit.ly/lsdxoxoflashdc


Philly Born LSDXOXO made a name for himself in New York City as a DJ and producer, quickly becoming an essential figure at GHE20GOTH1K. He is known for destroying dance floors across the underground club scene with his energetic DJ sets, amassing attention for the way that he manipulates mainstream sounds by craftily layering pop tracks and vocal samples between Baltimore club, ghetto house, hardcore, electro and techno.

Now residing in Berlin and running his own club night Floorgasm, LSDXOXO is synonymous with the new wave of techno artists reclaiming Black queer spaces and injecting some much-needed fun and camp into the genre.

His XL Recordings release DEDICATED 2 DISRESPECT and the D2D remix album are right on time, a time that calls for Black artists to be visible, bold and unapologetic.
Silvia Jiménez Alvarez aka JASSS is a Berlin-based sound artist, producer and DJ born and raised in Asturias in northern Spain. She started experimenting with electronic music production by editing field recordings after moving to the Netherlands in 2010. The following year she relocated to Berlin, where she began to actively Djing in the electronic circuit.
Her debut full-length album, 2017's Weightless, launched her relentless global touring schedule. Weightless demonstrated her visceral approach to avant-garde composition which she underscored by developing a live set titled STEAM alongside visual artist Theresa Baumgartner in 2018. Ever since the LP's release on the revered experimental label iDEAL, she's made regular appearances at clubs like Berghain, Amsterdam's De School and Bassiani in Tbilisi and performed at festivals like MUTEK Montreal, Sónar and Primavera. She's supplemented her work as a DJ and live musician by serving as an artist-in-residence at EMS in Stockholm (2017), Galeria Zé dos Bois in Lisbon (2018) and the 2019 edition of the Berlin-Rom Express, a recording artist residency at Villa Massimo curated by Carsten Nicolai (AKA Alva Noto).


// Club Level //

LSDXOXO
soundcloud.com/lsdxoxo
lsdxoxo.online/
JASSS
soundcloud.com/jass-29
ra.co/dj/jasss
GET FACE
soundcloud.com/GETFACE
ra.co/dj/getface
// Green Room: Future Deep Tour //
Pete Moss
soundcloud.com/petemosstracks
ra.co/dj/petemoss
Colette
soundcloud.com/djcolette
ra.co/dj/djcolette
// Flash Bar //
Dvonne
soundcloud.com/dvonnedj
ra.co/dj/dvonne
THABLACKGOD
soundcloud.com/thablackgod
ra.co/dj/thablackgod
Rah
soundcloud.com/rah-rec-309
// Featured Flash Performers [A-Z] //
Bumper
instagram.com/theebumper/
Jules
instagram.com/shebaribae/
Marybimbola
instagram.com/marybimbola/
_________________________________

⠶⠶⠶⠶⠶ Flash Safe Space Policy ⠶⠶⠶⠶⠶

Flash stands firmly against non-consensual behavior, discrimination, harassment or harm of any kind. If you or a friend feels uncomfortable, please let a Flash team member know ~ our staff is trained to take action and assist.

And always remember, no photos/videos on the dance floors for the sake of the vibe! ❤️