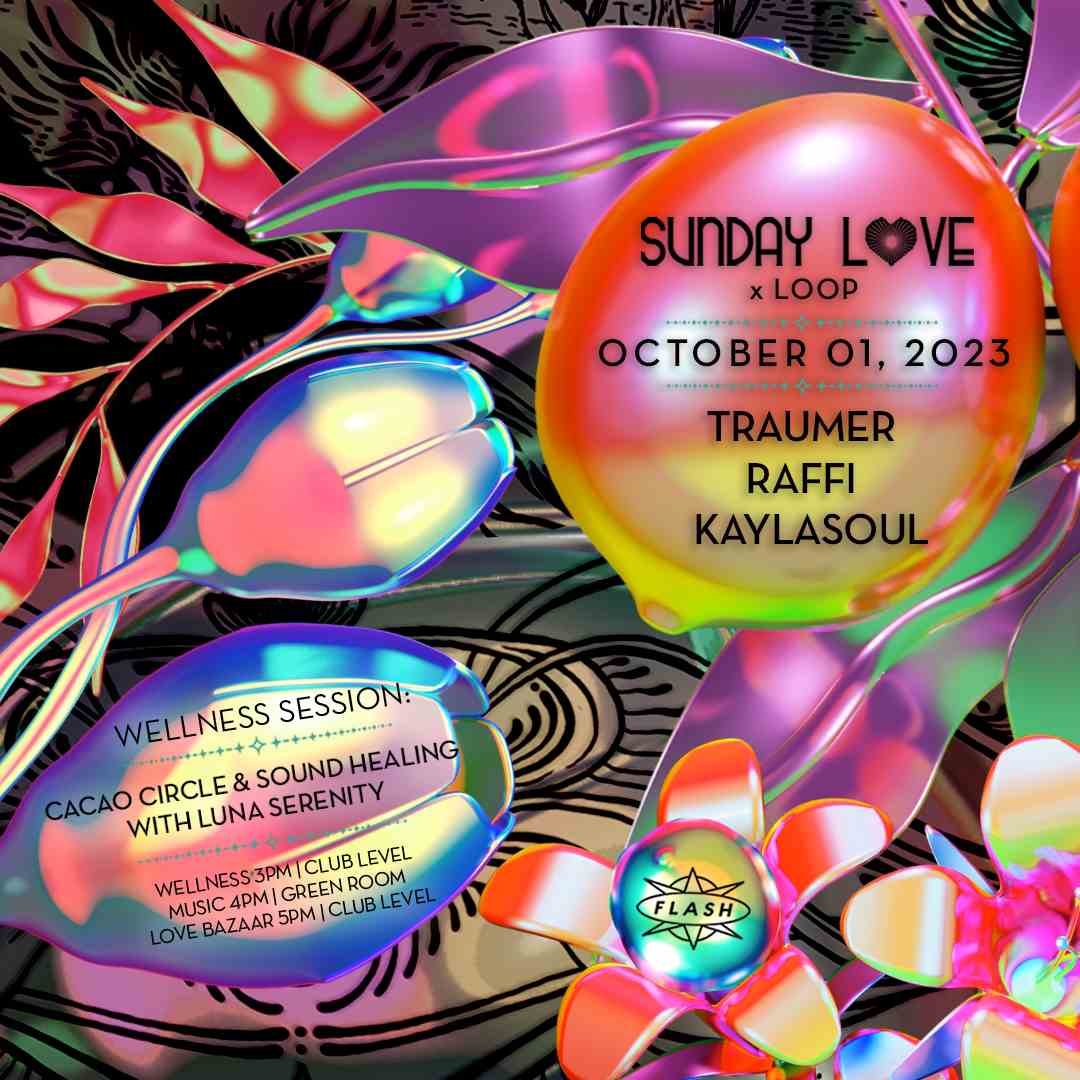 Sunday Love x Loop: Traumer - Raffi - KayLaSoul
Music in the Green Room by:
Traumer (Gettraum | Paris)
Raffi
KayLaSoul
WELLNESS SESSION: 3PM- 4PM CLUB LEVEL | 2:45PM DOORS
Cacao Circle & Sound Healing with Luna Serenity
LOVE BAZAAR: 5-9PM | CLUB ROOM
Doors 2:30PM
Flash Nightclub
Sunday, October 1, 2023
Doors 2:45 PM

Advance Tickets on sale now.
Paris's university seems not to have lost any of its superb when it comes to electronic music. Its persistent lights keep attracting -as much as they steadily arouse- more and more artists from the country towards her, although a very few, the most cunning ones succeed in implanting durably there.

Romain Reynaud aka Traumer is one of them. The keen disciple has left Avignon's comfortable warmth and plunged deep into the capital's boiling life. For a couple of years now he's been devoted entirely to his passion and has elicited many enthusiasm, offering him now the possibility to dedicate all of his time on his productions. Under IRM founders' friendly wings, who noticed in the first place his talent, and some expert producers friends and encouraging critic, the young producer keep on working and delivering new material, easily oscillating between genres, that has already convinced most of the electronic scene's god-fathers.

The Frenchman's discography pledges for his dynamism: in a few of years he proved his versatility, composing a cold, fierce, uncompromising techno as well as a melodious, jazzy deep house, suave and delicately bouncing. Traumer's musical circumvolutions reflect the deepness of his creativity and his technical mastering. Alternating genres, switching from smooth, sensible productions to straight, ecstatic techno tracks, he succeeded in building up a rich and strong repertoire, giving his live performances an unanimous acclamation in prestigious clubs like Paris's Rex and allowing him the notable supports of artists.


About Loop:
Loop is a collective dedicated to creating musically inspired experiences in unique spaces. Loop believes that everyone should have the opportunity to let loose and be themselves through music, community, and state-of-the-art sound.

The group was started in 2011 by five lifelong friends who wanted to share house music and the underground experience with their network. Their first party was hosted in College Park, MD, in 2011 in an abandoned house where hundreds of people showed up to experience something new-- a gathering unheard of in a college setting. Shortly after, they launched the Studio 52 loft parties, then the Soundwaves boat party, DC's six-year, legendary intimate techno and house experience on the Potomac River. Over the years, they've hosted world-renowned artists such as The Martinez Brothers, Bob Moses, Frank & Tony, Barac, Daniel Bell, Delano Smith, Rhadoo, Argy, Martinez, Nu, Kai Alce, Audiofly, YokoO, Viken Arman, and Armen Miran.


✨ Wellness Session: 3PM- 4PM Club level | 2:45PM Doors
Cacao Circle & Sound Healing with Luna Serenity
Join Johanna aka Luna Serenity for a Cacao Meditation and Soundbath experience.
Each participant will get a chance to experience the plant medicine of cacao and learn about the rich history of how Cacao has been used over the centuries. Participants will get to dive into a brief overview of the Mayan teachings related to Cacao and the energy of the Cholq'ij Calendar and how Cacao can be used as a way to deepen your meditation practice. Come learn about how the elements are at play with the energy of cacao on this day. Together we will prepare to receive the medicine of cacao and focus our minds, hearts and breath to tune into the wisdom from this sacred plant.
Following the Cacao Meditation, participants will settle into a soothing, heart-centered sound bath with Alchemy Crystal singing bowls, bells, chimes and more.

🛍 Love Bazaar: 5-9PM | Club Room
Local Vendors Marketplace


🎶 Music in the Green Room by:

Traumer (Gettraum | Paris)
soundcloud.com/traumer
ra.co/dj/traumer

Raffi
soundcloud.com/raffiloop
ra.co/dj/raffi

KayLaSoul
soundcloud.com/djkaylasoul
ra.co/dj/kaylasoul
__________________________________

⠶⠶⠶⠶⠶ Flash Safe Space Policy ⠶⠶⠶⠶⠶

Flash stands firmly against non-consensual behavior, discrimination, harassment or harm of any kind. If you or a friend feels uncomfortable, please let a Flash team member know ~ our staff is trained to take action and assist.

And always remember, no photos/videos on the dance floors for the sake of the vibe! ❤️