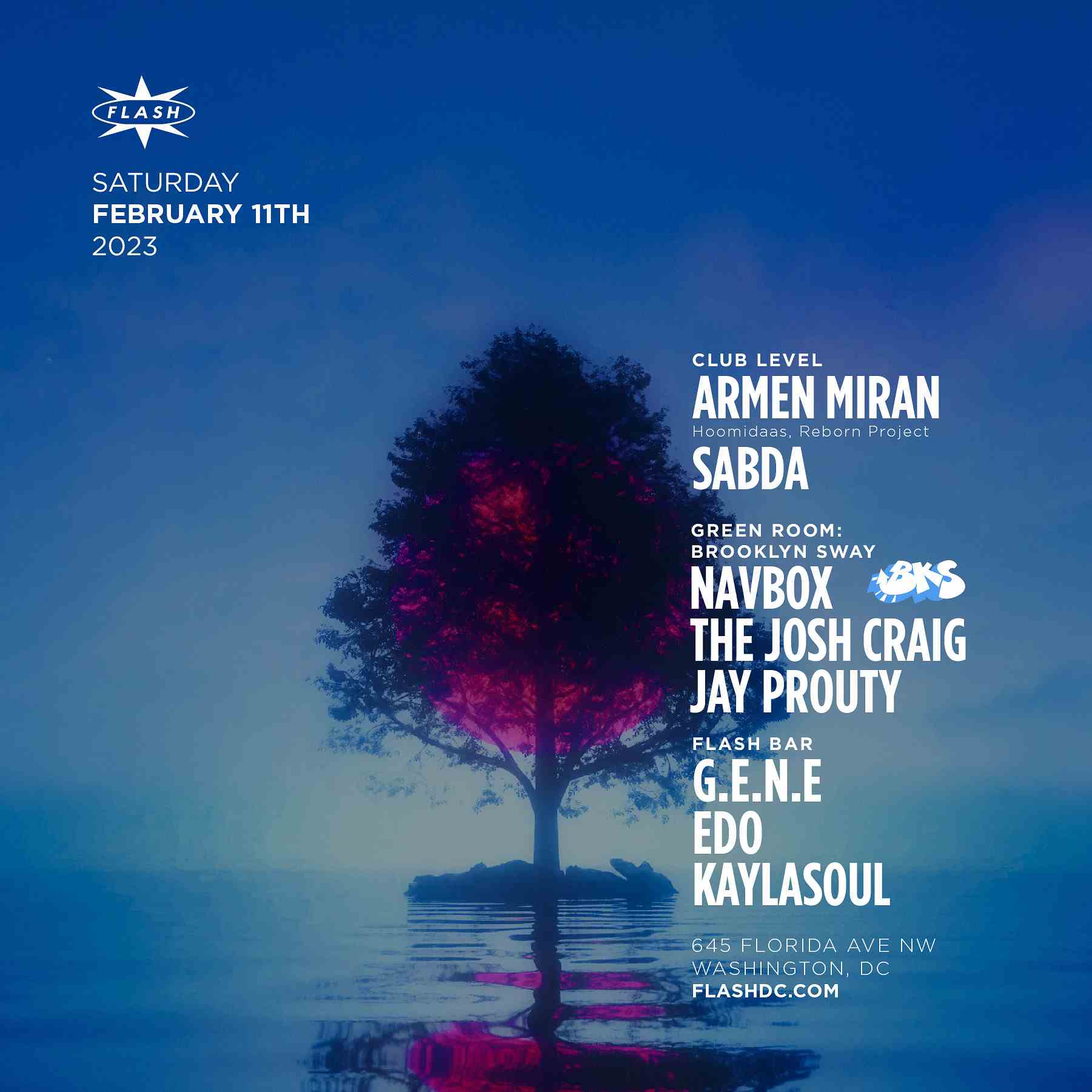 Armen Miran
// Club Level //
Armen Miran (Hoomidaas, Reborn Project)
Sabda
// Green Room: Brooklyn Sway //
Navbox
The Josh Craig
Jay Prouty
// Flash Bar //
g.e.n.e
Edo
KayLaSoul
Doors 10:00PM
Flash Nightclub
Saturday, February 11, 2022
Doors 10PM

Advance Tickets on sale Friday, December 16th.


Armenian born and Los Angeles based DJ/producer/multi-instrumentalist, Armen Miran has established himself as an iconic and powerful name in dance music. It is clear that people are gravitated towards his momentous style. From the Middle East to North America, he takes his listeners on a journey filled with diverse cultural sonics and ethereal undertones. When asked about his unique style Armen stated, "The combination of my past experiences in Europe and the Middle East along with having to start my career here in the US alone really helped shape my music naturally progressing to a more lighter style." Inspired by his spirituality and nature, he seeks to captivate his audiences and take them on a journey within themselves.

In order to further showcase his vision, he recently launched his own label called Hoomidaas Records back in 2019 as well as an event/production company called Reborn. He wants to enhance his artistry through curating a tasteful brand where he can release music and play live events with artists that are in-line with his vision and ideals. As an independent artist himself, Armen knows what it's like to struggle and wants to provide opportunities for other up-in-coming artists to have a voice. When asked to speak more about the intentions for his project Armen stated, "I want to bring my 16 years of experience to the music industry. Helping bring new artists to the scene that have a different crafted sound for people to listen to and enjoy".

Hoomidaas and Reborn have had major success and have even hosted one of their showcases with the world-renowned sublime singer/songwriter/DJ/producer, Monolink! As you can see, Armen has been determined since he was a young boy to make electronic music the focal point of his life, and he's just getting started with the expansion of Hoomidaas and Reborn.


// Club Level //

Armen Miran (Hoomidaas, Reborn Project)
soundcloud.com/armenmiran
armenmiran.com/


Sabda
soundcloud.com/sabda-music-official
// Green Room: Brooklyn Sway //
Navbox
soundcloud.com/navbox
ra.co/dj/navbox
The Josh Craig
soundcloud.com/thejoshcraig
thejoshcraig.com/
Jay Prouty
soundcloud.com/jayprouty
ra.co/dj/jayprouty
// Flash Bar //
g.e.n.e.
soundcloud.com/gene_4soul
ra.co/dj/g.e.n.e.
Edo
soundcloud.com/dj-edo
ra.co/dj/edo
KayLaSoul
soundcloud.com/djkaylasoul
ra.co/dj/kaylasoul
_________________________________

⠶⠶⠶⠶⠶ Flash Safe Space Policy ⠶⠶⠶⠶⠶

Flash stands firmly against non-consensual behavior, discrimination, harassment or harm of any kind. If you or a friend feels uncomfortable, please let a Flash team member know ~ our staff is trained to take action and assist.

And always remember, no photos/videos on the dance floors for the sake of the vibe! ❤️