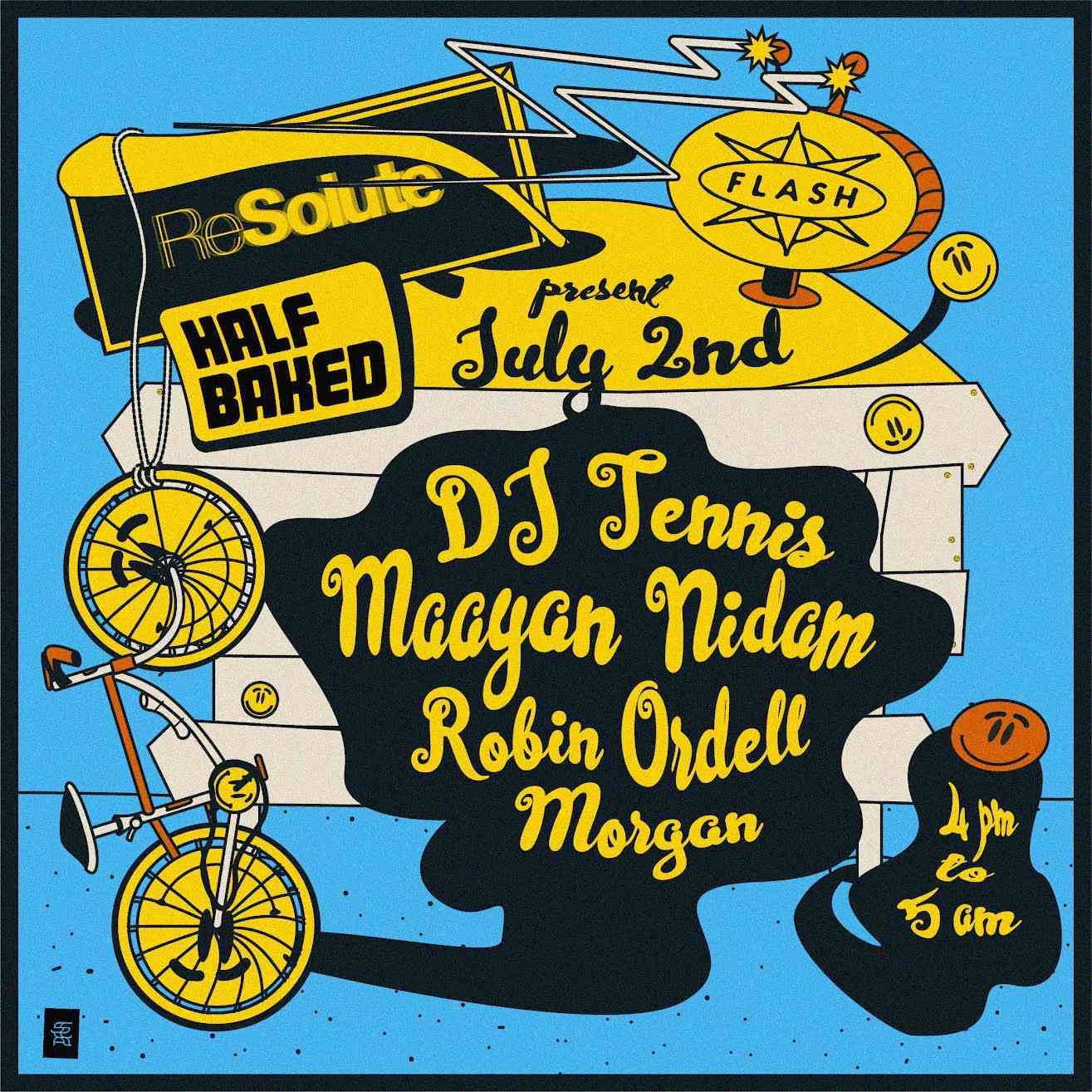 Flash-Off: Flash, Resolute & Half Baked Present: DJ Tennis - Maayan Nidam - Robin Ordell - Morgan
// Musical Guests //
DJ Tennis (Life and Death | Italy)
Maayan Nidam (Perlon | Berlin)
Robin Ordell
Edo
Doors 8:00PM
Warehouse Location TBA
Saturday, July 2, 2022
Doors 8PM | 2101 New York Ave, Washington, D.C.

Advance Tickets on sale Friday, June 10th.
Get notified about future events by texting "FLASH" to (855) 957-2349
Get Tickets: bit.ly/flashoffdjtennis

Founder and A&R of Life and Death, Manfredi Romano grew up tour-managing punk bands and organizing left-field music events in Italy around the turn of the Millennium. Having completed his studies in computer science at the University of Pisa, Manfredi went on to form DAZE, Italy's first booking agency solely devoted to electronic music. Drawing on two decades of experience behind the scenes, Romano shifted focus in 2010, establishing himself as a DJ in his own right. As a performer, Tennis valiantly showcases an astute ability to create intimacy in even the vastest of gatherings. As a respected producer, Romano consistently channels his past relationships with post-rock luminaries such as Godspeed You! Black Emperor, Tortoise and Fugazi into intricately-synthesized electronic constellations. Fine chef and restaurant owner, Tennis splits his time between Miami and Barcelona, where he enjoys riding motorbikes, collecting vintage action-figures and building upon his vinyl record collection - which now numbers over eleven-thousand strong.
Tennis will be joined by Israeli native, Maayan Nidam. Having lived in all four corners of the world, Maayan currently resides in Berlin where she continues to develop her label Hellium. An integral part of the Parisian collective Yoyaku, Maayan continues to push the boundaries with each performance and release, her most recent album being "Sea of Thee" in 2018 followed by an EP titled Hellium 002 in 2020.

// Musical Guests //

DJ Tennis (Life and Death | Italy)
soundcloud.com/djtennisdjtennis
linktr.ee/lifeanddeathforever
Maayan Nidam (Perlon | Berlin)
Robin Ordell

_________________________________

⠶⠶⠶⠶⠶ Flash Safe Space Policy ⠶⠶⠶⠶⠶

It is Flash's mission to maintain a safe space where we all feel at home. We ask our attendees to please stay compliant with our rules and keep Flash's space free from the following:

⠶ Violence
⠶ Non-consensual behavior
⠶ Racism, homophobia, transphobia, misogyny, sexism or other discriminatory behaviors
⠶ Harassment of any kind

Lastly, we ask you to
⠶ Respect the space…leave no trace
⠶ No phones on the dance floor…for the sake of the vibe!

If you or a friend feels uncomfortable at any point, please do not hesitate to let a Flash team member know. Our security, bartenders, door staff, and managers are here to help and will remove individuals engaging in any form of hatred, discrimination, or inappropriate behavior ❤️