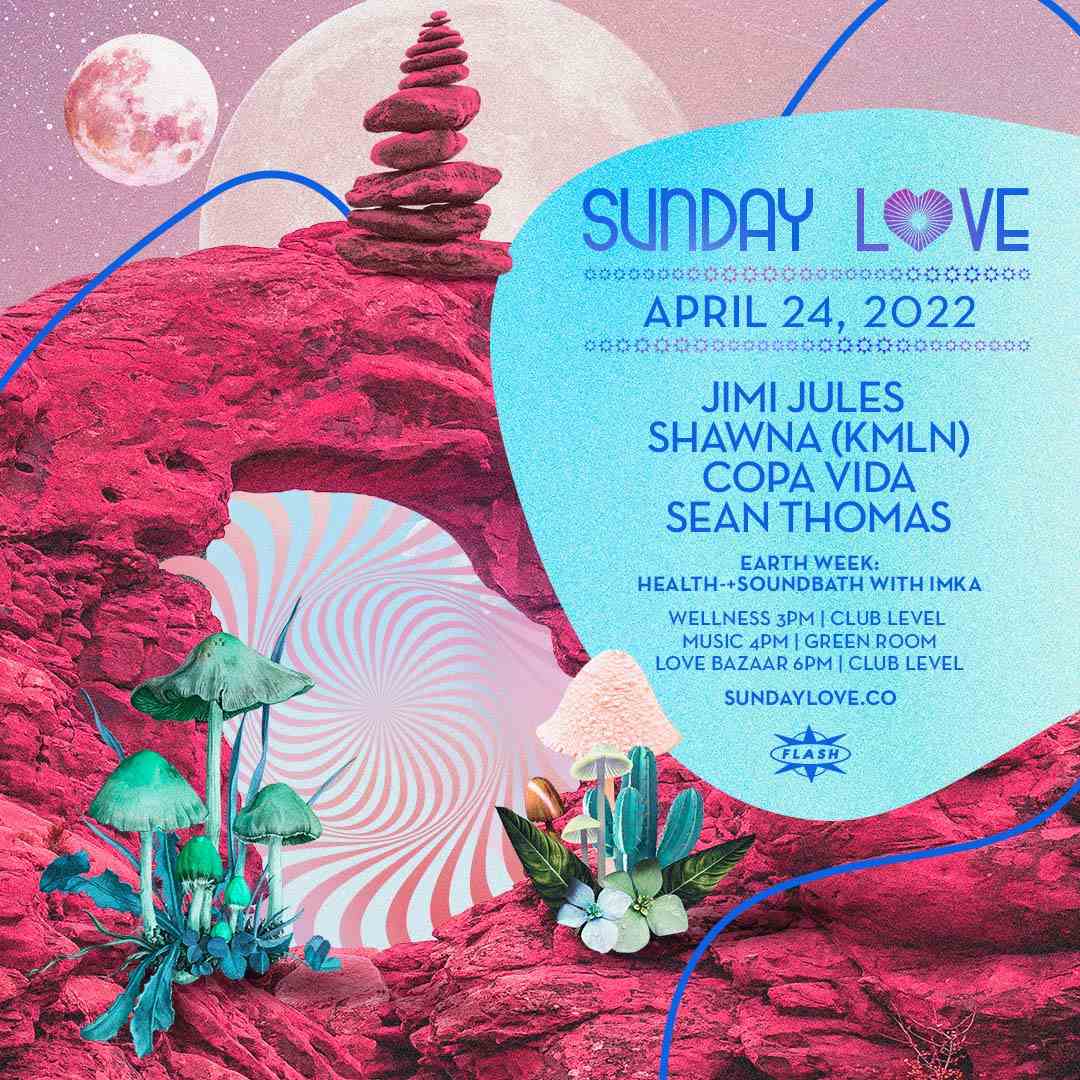 Sunday Love: Jimi Jules - Shawna - Copa Vida - Sean Thomas
Music in the Green Room by:
Jimi Jules (Innervisions | Zürich)
Shawna (KMLN | SF)
Copa Vida
Sean Thomas

Club Level:
Wellness Session 3PM Earth Week: Health - + with Imka
Love Bazaar 6-9PM
Doors 3:00PM
Flash Nightclub
Sunday, April 24, 2022
Doors 2:45 PM
Advance Tickets on sale March 18th.
Get notified about future events by texting "LOVE" to (855) 957-2349
Get Tickets: bit.ly/sundaylovejimi
An artist that needs no introduction, Sunday Love welcomes back Jimi Jules. The Zurich based DJ and producer gained major traction by routinely playing all night slots at the infamous Watergate club in Berlin. Convinced by his immersive talent, Watergate's agency offered him a place on their roster. Since the days of releasing on Watergate and Defected, Jimi now frequently delivers via Dixon & Ame's Innervisions, where he saw a massive 2021 with his Ham The Monkey EP followed by his smash hit single "My City's on Fire." Join us in the Green Room for Jimi Jules' return to Sunday Love, April 24th.
✨ Wellness Session: 3PM- 4PM Club level | 2:45PM Doors
ℙ𝕝𝕒𝕟𝕥 & 𝕊𝕠𝕦𝕟𝕕 𝔹𝕒𝕥𝕙 by ℍ𝔼𝔸𝕃𝕋ℍ -+
Imka is a bio-therapeutic musician who leads an event meant to link the relationships between nature and the listener. Every plant has its own unique sounds that Imka transforms its Bio-Data into a musical composition for live performance. Attendees are encouraged to bring plants to this event which will give Imka the ability to capture the plant's bio-data during the performance to be brought to his home studio to compose a song.
All attendees will receive an audio copy of HEALTH - + performance, personal plant recordings and his latest album Manyara after the event is over. The result? A soundbath to decompress the body, mind, and soul using digital instruments that imitates traditional instruments to create a relaxing and sound-filled environment.
🛍 Love Bazaar: 6-9PM | Club Room
Local Vendors Marketplace

Music in the Green Room by:
Jimi Jules (Innervisions | Zürich)
Shawna (KMLN | SF)
Copa Vida
soundcloud.com/user-287948868
Sean Thomas
soundcloud.com/sto1989
___________________
ABOUT THE ARTISTS:
Jimi Jules:
Jimi Jules is an international multi-Instrumentalist and producer, dedicating his successful career and education to the house and techno scene. Devoted to club culture having played over the world for 20 years, Jimi Jules is currently signed to renowned Berlin-based label Innervisions and collaborative booking agency Temporary Secretary. Besides, he collectively continually works with Defected Records, Innervisions, Zukunft, Watergate, Rumpelmusig, Hive Audio and Rebirth. Continuously on an exploration to push the boundaries and create new sound within the genre, most recently Jules was awarded a silver disk marking 200,000 sales of the 2020 track "Pushin On" released on Defected.
No doubt a unique character within the music scene, Jimi Jules is well-known for his multidisciplinary approach having completed his master's degree in music at the acclaimed University of Arts in Zurich. A descendant from a tribe of Caribbean voodoo-sorcerers and a Swiss farmer, Jimi Jules believes every little piece or second can turn into an inspiration moment: his children, family and friends to people watching from a bench and listening to the same drum loop for four hours.
From The Grand Factory in Beirut to Brooklyn Mirage in New York (with every renowned club across the world in between) Jimi Jules orchestrates and conducts a club filled with thousands with the same force and energy as an intimate studio session, working alone or with other producers and musicians to discover new forms of music and sound. E​​ndeavoring to blur the worlds of sound and art through the interplay of collaboration, Jimi Jules cites Dixon, Joy Tyson and Tugg the Dummer as creative partners as well as most recently working with multidisciplinary London creative Trevor Jackson to produce radically bold and innovative visuals and artwork to compliment the sound. A mentor, innovator and learner spanning the entirety of club culture and beyond.
Jimi Jules' second album titled "+" will be released on Innervisions,in 2022. The eleven track release available digitally and on vinyl was developed in Zurich and co-produced by Dixon, exploring the trauma of togetherness yet looks forward to a future aligned on positive thoughts and freedom. Better Together Forever!
__________________________________
Flash Policy
Flash stands firmly against non-consensual behavior, discrimination, harassment or harm of any kind. If you or a friend feels uncomfortable, please let a Flash team member know ~ our staff is trained to take action and assist.
And, please, no corporate attire or photo/videography on the dancefloors for the sake of the vibe! ❤️