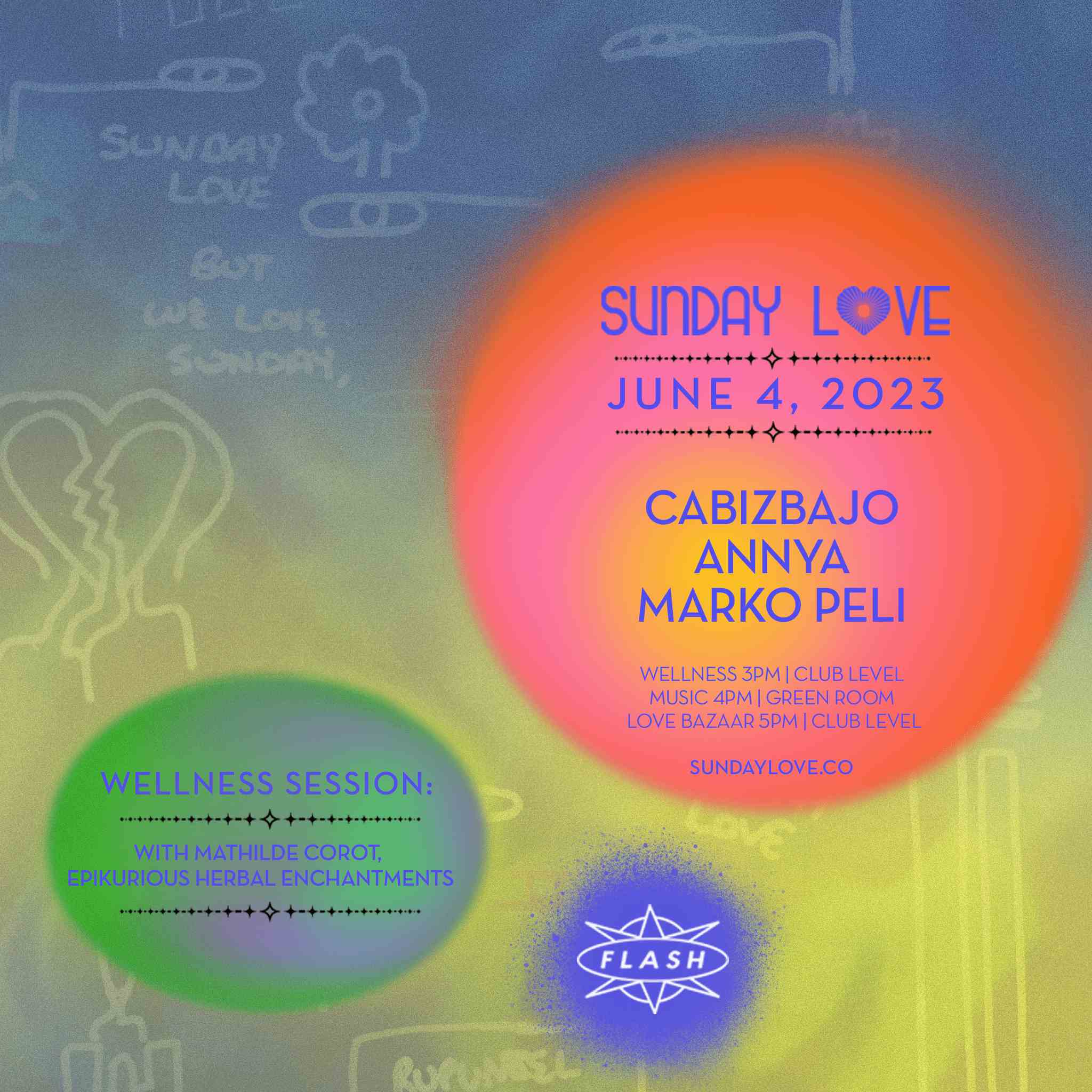 Sunday Love: Cabizbajo - ANNYA - Marko Peli
Music in the Green Room by:
Cabizbajo (ROTATE | Mexico)
ANNYA
Marko Peli
WELLNESS SESSION: 3PM- 4PM CLUB LEVEL | 2:45PM DOORS
Aromatic Smoke for Sacred Spaces With Mathilde Corot of Epikurious Herbal Enchantments
LOVE BAZAAR: 5-9PM | CLUB ROOM
Doors 2:30PM
Flash Nightclub
Sunday, June 4, 2023
Doors 2:45 PM

Advance Tickets on sale now.
Roberto Escobosa, better known by his stage name Cabizbajo, is a highly talented producer and DJ from Culiacan, Mexico. Growing up, he played the drums and was heavily influenced by rock music.

Despite his traditional musical background, Cabizbajo has managed to make a successful transition into the world of electronic music. He has incorporated his strong musical execution and drumming skills into his electronic sound, which sets him apart from other DJs.

Currently based in Guadalajara, Mexico, Cabizbajo can often be found performing at the renowned Bar Americas venue. He has earned a reputation within the Mexican underground scene for his innovative and dynamic live performances, which are characterized by his distinctive futuristic basslines.

Cabizbajo's music explores the darker, deeper side of techno, and his style is always pushing boundaries and challenging conventional ideas.

His unique approach to electronic music has earned him a well-deserved place among the most exciting and innovative DJs in Mexico.


✨ Wellness Session: 3PM- 4PM Club level | 2:45PM Doors
Aromatic Smoke for Sacred Spaces
With Mathilde Corot of Epikurious Herbal Enchantments
Elevate your consciousness with aromatic plants. Fragrant smoke from botanicals has the power to lift up and clear energies in a space and around our energetic bodies. The aromatic experience from the fragrant smoke creates a consciousness shift, allowing for relaxation, quieting the mind and journeying within.


🛍 Love Bazaar: 5-9PM | Club Room
Local Vendors Marketplace


🎶 Music in the Green Room by:

Cabizbajo (ROTATE | Mexico)
soundcloud.com/cabizbajo
ANNYA
soundcloud.com/annya_dj
Marko Peli
soundcloud.com/marko-peli
ra.co/dj/markopeli
__________________________________

⠶⠶⠶⠶⠶ Flash Safe Space Policy ⠶⠶⠶⠶⠶

Flash stands firmly against non-consensual behavior, discrimination, harassment or harm of any kind. If you or a friend feels uncomfortable, please let a Flash team member know ~ our staff is trained to take action and assist.

And always remember, no photos/videos on the dance floors for the sake of the vibe! ❤️