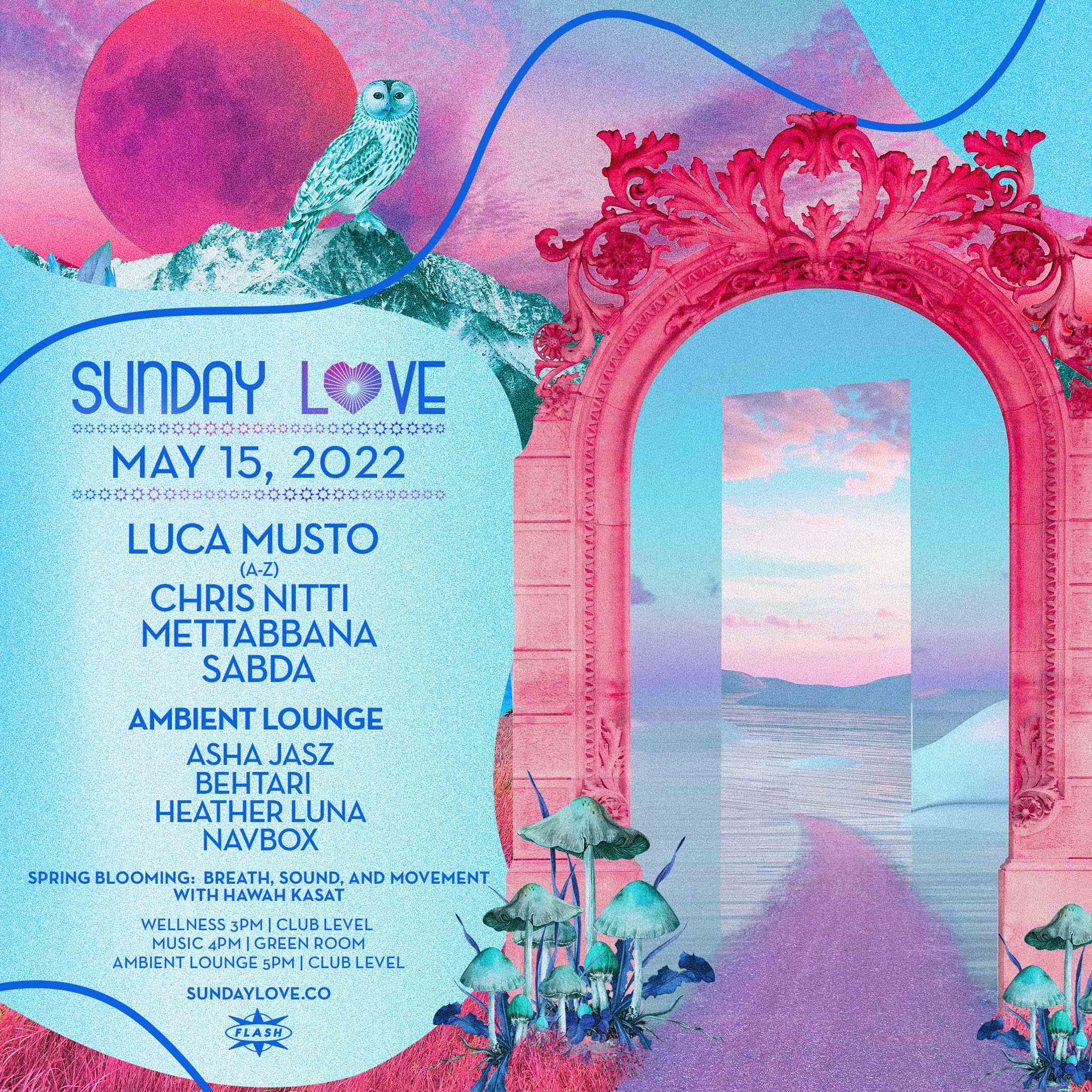 Sunday Love: Luca Musto - Chris Nitti - Mettabbana - Sabda
Music in the Green Room by:
Luca Musto
Chris Nitti
Mettabbana
Sabda
Club Level:
Wellness Session 3PM Spring Blooming: Breath, Sound, and Movement with HawaH Kasat
Ambient Lounge 6PM-11PM:
Asha Jasz
Behtari
Heather Luna
Navbox
Doors 3:00PM
Flash Nightclub
Sunday, May 15, 2022
Doors 2:45 PM
Advance Tickets on sale now.
Get notified about future events by texting "LOVE" to (855) 957-2349
Get Tickets: bit.ly/sundaylovelucamusto
Luca Musto is an enthusiast of soul, jazz and blues, his electronic music/'slow-house' oozes of grooving beats and hypnotizing melodies. With Italian roots reflecting rhythms through spaces into a musical mirror, you might get ready to set up cozy, yet grounded atmospheres. Whilst some quote to know him for years spinning musical projects all around the backyards of southern Germany, Luca's vision of deeply impulsive ambiences moves on as the beat does. Join us for Sunday Love on May 15th alongside Luca Musto.
✨ Wellness Session: 3PM- 4PM Club level | 2:45PM Doors

🛍 Love Bazaar: 6-9PM | Club Room
Local Vendors Marketplace
Music in the Green Room by:
Luca Musto
soundcloud.com/lucamusto
ra.co/dj/lucamusto-fr

Chris Nitti
soundcloud.com/chrisnitti
ra.co/dj/chrisnitti