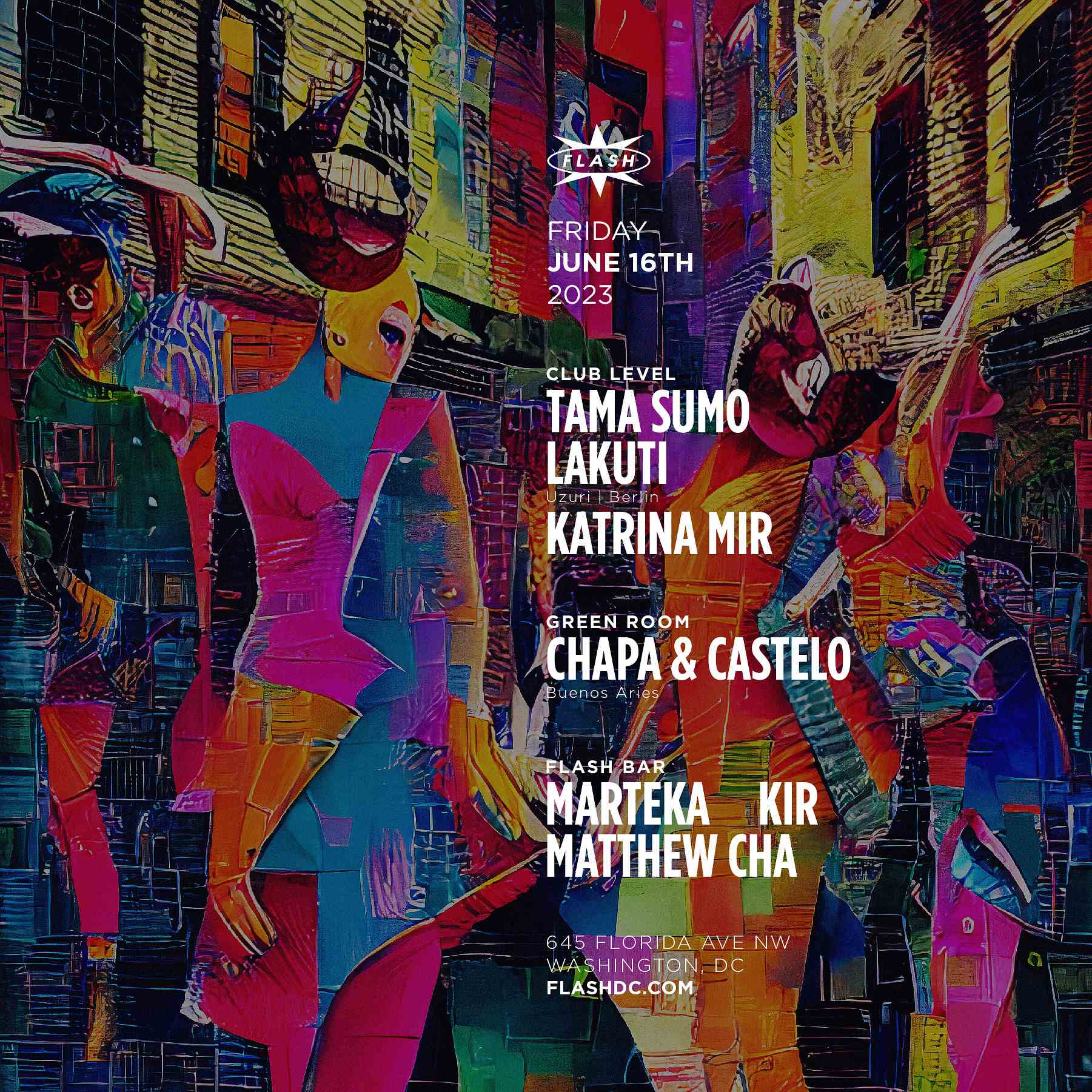 Tama Sumo & Lakuti - Chapa & Castelo
// Club Level //
Tama Sumo
Lakuti (Uzuri | Berlin)
Katrina Mir
// Green Room [open-to-close] //
Chapa & Castelo (La Juanita Records | Buenos Aires)
// Flash Bar //
Marteka
Kir
Matthew Cha
Doors 10:00PM
Flash Nightclub
Friday, June 16, 2023
Doors 10PM

Advance Tickets on sale now.
We are excited to welcome back Tama Sumo & Lakuti. Tama Sumo is a German veteran DJ/producer with releases on Ostgut Ton, a 10-year residency at Berlin's Tresor, and most notably a Berghain/Panorama Bar resident since its inception. Not satisfied with remaining static as a DJ, Tama Sumo's sets have developed to cover House, Techno, Jazz, Disco, Broken Beat, Soul, Funk, Afro Beat.

She is joined by South African-born Lakuti, a staple in Europe's underground club and festival circuit. Lakuti is one of the essential personalities of house music - always pushing the boundaries of the genre, both musically and politically, on and off the dancefloor. As an experienced music curator and producer, operator of the artist* agency and label Uzuri, sought-after lecturer on the history of dance music, and critical voice of the scene, Lakuti takes on many roles. As a DJ and musician, the Panorama Bar resident has a deep understanding of house music.

Tamo Sumo and Lakuti have nearly 50 years combined experience and have collaborated by bringing the Tarantism project as well as their 'Bring Down the Walls' project.
Chapa Ruiz & Fede Castelo from Buenos Aires, Argentina, started to study music since they were kids in rock bands. After that they started their professional career in 2015. Since then, they embedded their lives deeply into electronic music, their passion, playing in the most important venues of Argentina (Buenos Aires) and Uruguay (Punta del Este), Mexico and the U.S. Today they have their own label called La Juanita Records where their sound is represented by depth melodies and groovy drums but always being hybrids about house music.

// Club Level //

Tama Sumo
soundcloud.com/tama-sumo
ra.co/dj/tamasumo

Lakuti (Uzuri | Berlin)
soundcloud.com/lakuti
ra.co/dj/lakuti
Katrina Mir
soundcloud.com/katrinamir
ra.co/dj/katrinamir
// Green Room [open-to-close] //
Chapa & Castelo (La Juanita Records | Buenos Aires)
soundcloud.com/chapacastelo
lajuanitaprojects.com/en/records
// Flash Bar //
Marteka
soundcloud.com/martekafair
ra.co/dj/martekafair
Kir
soundcloud.com/itiskir
ra.co/dj/kir-1
Matthew Cha
soundcloud.com/saxmachine1234
ra.co/dj/matthewcha
_________________________________

⠶⠶⠶⠶⠶ Flash Safe Space Policy ⠶⠶⠶⠶⠶

Flash stands firmly against non-consensual behavior, discrimination, harassment or harm of any kind. If you or a friend feels uncomfortable, please let a Flash team member know ~ our staff is trained to take action and assist.

And always remember, no photos/videos on the dance floors for the sake of the vibe! ❤️