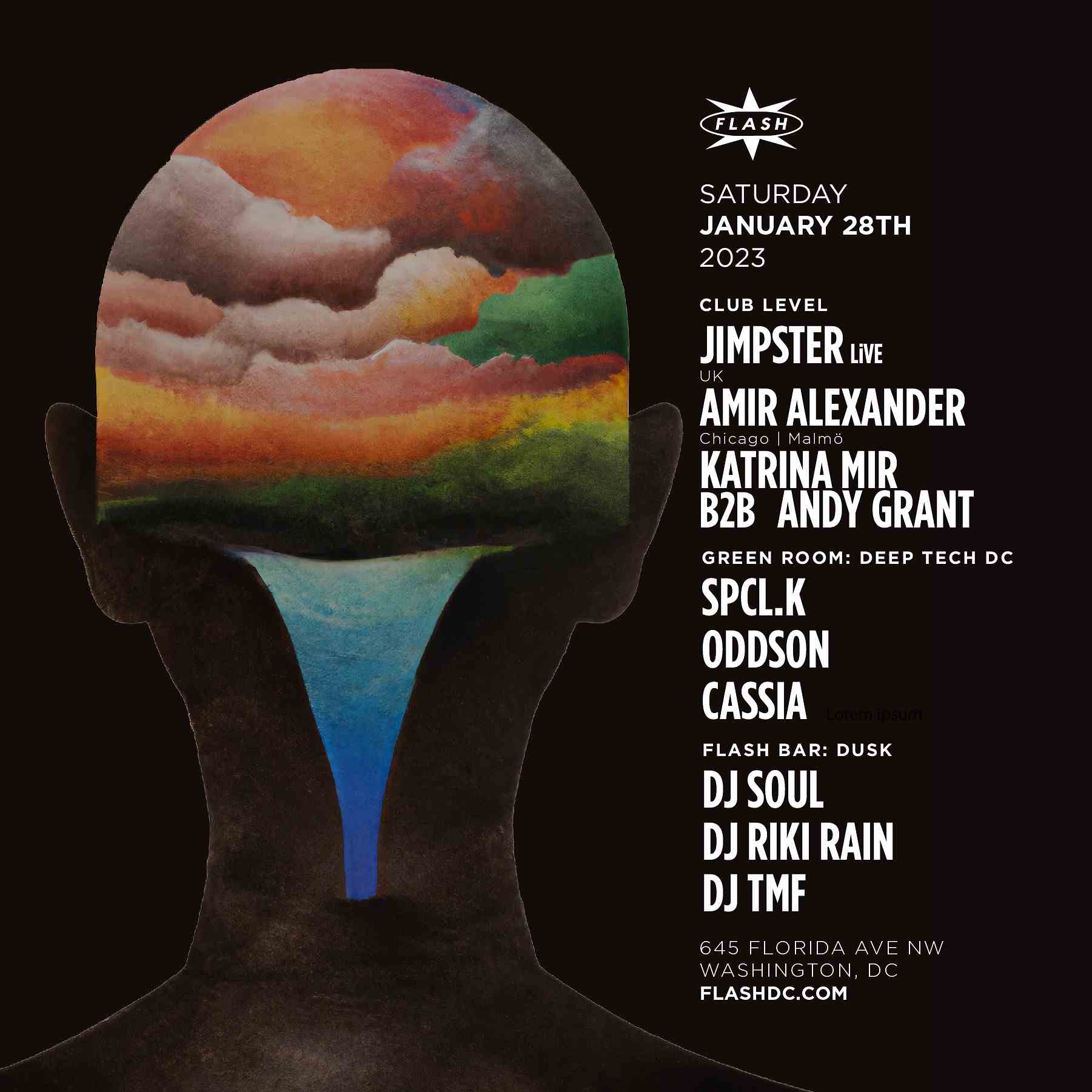 Jimpster LiVE - Amir Alexander
// Club Level //
Jimpster (UK)
Amir Alexander (Chicago | Malmo)
Katrina Mir b2b Andy Grant
// Green Room: Deep Tech DC //
SPCL.K
Oddson
Cassia
// Flash Bar: Dusk //
DJ Soul
DJ Riki Rain
DJ TMF
Doors 10:00PM
Flash Nightclub
Saturday, January 28, 2023
Doors 10PM
Advance Tickets on sale Friday, Nov 4th.
Get Tickets: bit.ly/amiralexanderdc
Jamie Odell aka Jimpster, wears many hats and wears them well. He's one of the most revered house producers/DJs on the scene and his labels Freerange and Delusions Of Grandeur continue to help break incredible new music which he brings to his DJ sets across the globe. His seminal LP 'Messages From The Hub' established Jimpster as an artist of note back in the late 90's and the music has flowed steadily and consistently since then, mostly on Freerange, with the 2006 excursion 'Square Up' on Ben Watt's seminal Buzzin Fly label proving to be a (temporary) transfer of one London-based deep house icon to another. Releases such as 'English Rose', 'Dangly Panther', 'A Love Like This' and 'Can't Stop Loving' continue to be choice cuts for many DJ's whilst 'These Times' and 'Porchlight And Rocking Chairs', two more recent deep house anthems, were remixed by Dixon and KiNK to serious effect. With Jimpster still doing the business at globally renowned hotspots, we can see that the fire is still burning as brightly as ever.
A DJ since 93. A Producer since 98. A true student of music/culture. Amir founded Vanguard Sound in Chicago during February 2006 to chart his own musical evolution and expression. After making his presence felt in the Chicago club scene via a meteoric rise culminating in a DJ watch feature in Chicago's 5 magazine, he completely disappeared and went beneath the underground to focus solely on advancing his production skills. Soon after linking up with G. Marcell and Hakim Murphy he began to release gritty tracks that began to be charted and played by underground DJ's worldwide. After blowing away his first few clubs on his tour, Amir quickly gained an international following performing at Panorama Bar, Rex, Concrete, Arma 17, and secretsundaze. In both the studio and behind the decks this cat strives to bring a raw and gritty modern spin on classic Detroit, Chicago, and New York underground sounds. Don't miss Amir Alexander on Saturday, January 28th in the Club Level.

// Club Level //
Jimpster (UK)
soundcloud.com/jimpster
ra.co/dj/jimpster
Amir Alexander (Chicago | Malmo)
soundcloud.com/amir-alexander
amir-alexander.com/
Katrina Mir b2b Andy Grant
soundcloud.com/katrinamir
soundcloud.com/dchousegrooves
// Green Room: Deep Tech DC //
SPCL.K
soundcloud.com/spclkmusic
ra.co/dj/spcl.k
Oddson
soundcloud.com/oddsonofficial
Cassia
soundcloud.com/cassiagetsdeep
// Flash Bar: Dusk //
DJ Soul
mixcloud.com/philip-hackley/stream/
ra.co/dj/djsoul-us
DJ Riki Rain
on.soundcloud.com/6PGWZ
DJ TMF
mixcloud.com/DJ_TMF/
ra.co/dj/djtmf
_________________________________

⠶⠶⠶⠶⠶ Flash Safe Space Policy ⠶⠶⠶⠶⠶

Flash stands firmly against non-consensual behavior, discrimination, harassment or harm of any kind. If you or a friend feels uncomfortable, please let a Flash team member know ~ our staff is trained to take action and assist.

And always remember, no photos/videos on the dance floors for the sake of the vibe! ❤️