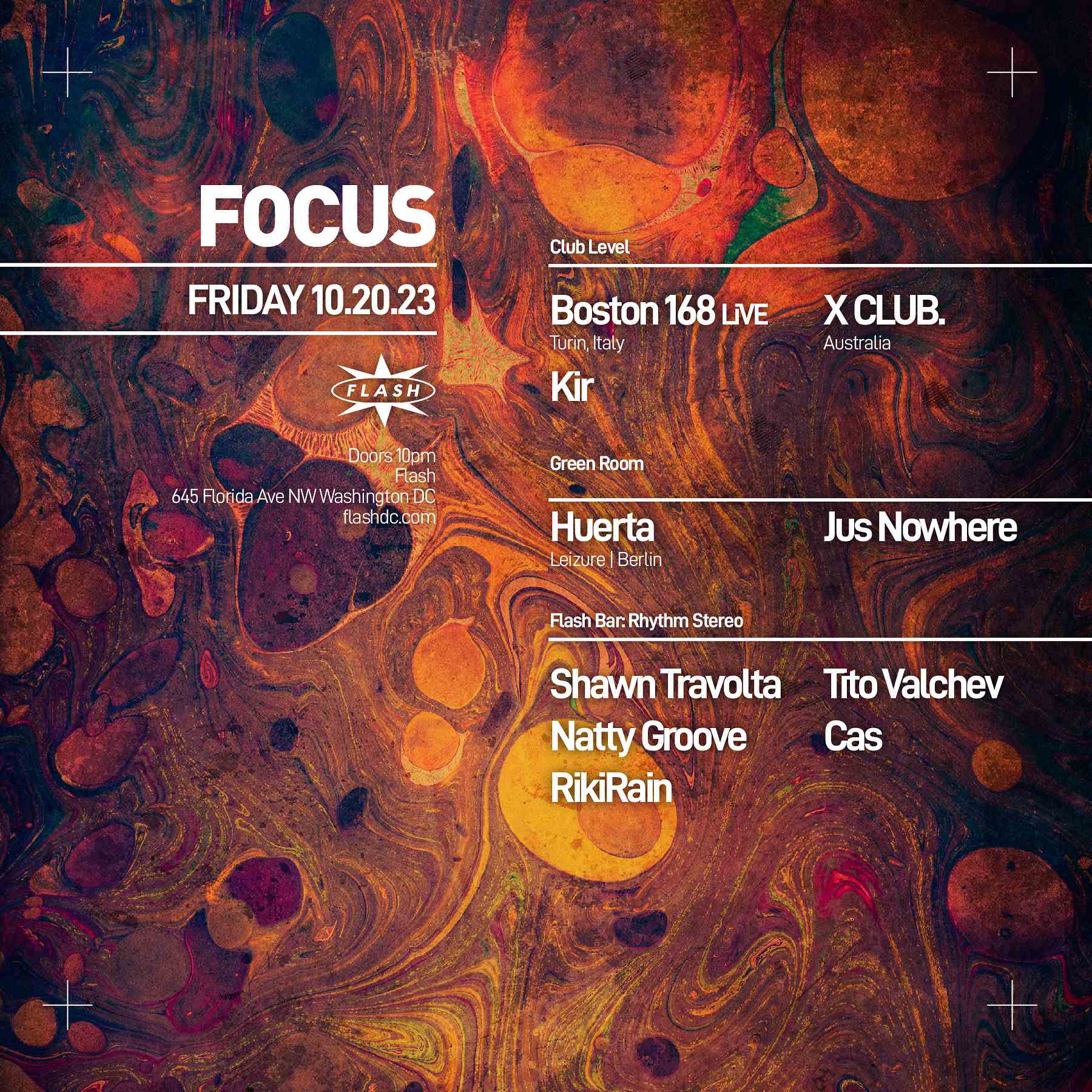 FOCUS: Boston 168 [LiVE] - X CLUB.
// Club Level //
Boston 168 [LiVE] (Turin, Italy)
X CLUB. (Australia)
Kir
// Green Room //
Huerta (Leizure | Berlin)
Jus Nowhere
// Flash Bar: Rhythm Stereo //
Shawn Travolta
Tito Valchev
Natty Groove
Cas
RikiRain
Doors 10:00PM
Flash Nightclub
Friday, October 20, 2023
Doors 10PM

Advance Tickets on sale now.
Along a surface, within the empty silence of an abandoned setting, the factory noises still echo: in the beginning was the production line, then the working class of the consumer society, lastly machines and robotics as workforce. So in those factory cities, in Michigan as in UK and in the Italian Motown Turin, the industrial plants have been occupied by the rave subcultures, the mechanical noise replaced by the sound of techno.

Now the plants have become sound venues, and getting involved with techno can be seen as a search for a meaning for the kids who grew up in that industrial setting. In Turin, industrial and musical manufacturing city, Boston 168 is born, formed by Sergio Pace and Vincenzo Ferramosca, an analogic duo that through sound production aims to redefine a peculiar field of the electronic sound, Acid Techno.

Boston 168 is a laboratory of sound crafting: Sergio Pace and Vincenzo Ferramosca are two electronic researchers, who have spent years working on vivisecting sound in order to create new solutions for the techno substance. In 2010 the two young producers cofound Old and Young label: a combination of the experience of Gambo with their fresh point of view in order to rewrite the basis of techno. The two young producers start working on their live set: as a result, they irradiate with cosmic warmththe dawns in warehouses, ex-industries and clubs, taking their audience on techno voyages at traditional speed, looking for new gravity spaces and sound blackholes.

Sergio Pace and Vincenzo Ferramosca's meticulous work mixes up the acoustics of the traditional machines which made the history of techno, Roland Tr909, Tr707, Tb303, Avalon Abstrakt Instrument and other technological hardware. The feedback of the international techno community is huge: Boston 168 published on different labels such as Enemy, Involve, Attic music, Odd/even, Bpitch Control, along their EPs and music, which has attracted great interest from the whole industry.
The sound of X CLUB., the dance production duo of Ben Clarke and Jesse Morath, is not easily defined. Inspired by early 90s techno all the way through to future-facing drum'n'bass, X CLUB. has carved out a space entirely their own thanks to their authentic and eclectic take on dance music with serious consideration for underlying groove.
Currently based in London, X CLUB. counts the likes of Steel City Dance Discs, Lobster Theremin and Stay On Sight as homes for their releases already. The second half of 2022 will see the pair kick things into gear with a number of offerings before making their way back home for the summer festival circuit. September will see X CLUB. unleash their new EP 300 TOOLS FOR SUCCESS on Miley Serious' 99cts Records, delivering four tracks full of pure groove and heavy hitting moments best served with a warning. Forthcoming projects on Tred's label Global Amnesia and a return to Dance Discs are also on the horizon. The latter includes a feature from rising star Pretty Girl, the duo's second foray into music videos, and 'Say No More' which has quickly become a go-to for label boss and friend Mall Grab in his own sets, igniting the "ID?"s across the digital realm.
X CLUB.'s sets are at once precise and considered as they are unrelenting and propulsive. The pair opt to guide their audience on a dynamic, energetic and unpredictable ride, upping the intensity and chaos before reaching total dancefloor liberation. Quickly emerging from sharehouses in Meanjin/Brisbane and onto the international stage, X CLUB.'s buzz as one of the hottest dance acts to watch at home and abroad is the result of friendship, authenticity, and of course, hard n' fast tracks. A key part of a burgeoning collective of artists in their home of Meanjin and around Australia, each making their presence known on the international stage alongside Skin on Skin, JamesJamesJames, Mutant Joe, Crush3d, Juicy Romance, Pretty Girl and many more. They remain connected by a sense of family, humility and a desire to make dance music that makes you feel just as much as it makes you move.

// Club Level //

Boston 168 [LiVE] (Turin, Italy)
soundcloud.com/boston-168
ra.co/dj/boston168
boston168.store/
X CLUB. (Australia)
soundcloud.com/itsxclub
ra.co/dj/xclub
xclubmusic.com/
Kir
soundcloud.com/itiskir
ra.co/dj/kir-1
// Green Room //
Huerta (Leizure | Berlin)
soundcloud.com/stevehuerta
ra.co/dj/stevehuerta
Jus Nowhere
soundcloud.com/jusnowhere
ra.co/dj/jusnowhere
// Flash Bar: Rhythm Stereo //
Shawn Travolta
soundcloud.com/stravolta
Tito Valchev
soundcloud.com/titovalchev
Natty Groove
soundcloud.com/thenattygroove
RikiRain
soundcloud.com/rikiw-1
_________________________________

⠶⠶⠶⠶⠶ Flash Safe Space Policy ⠶⠶⠶⠶⠶

Flash stands firmly against non-consensual behavior, discrimination, harassment or harm of any kind. If you or a friend feels uncomfortable, please let a Flash team member know ~ our staff is trained to take action and assist.

And always remember, no photos/videos on the dance floors for the sake of the vibe! ❤️